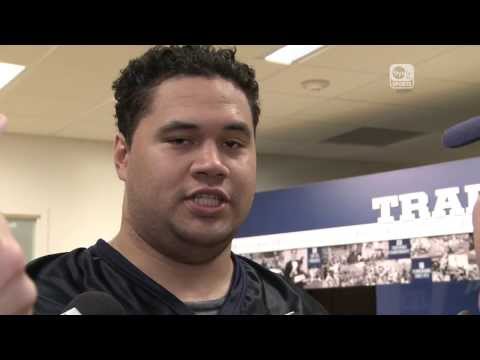 View 35 Items




The team was anxious to fly around — really anxious to compete. They like football. I think they're tough. I think they're physical. I had fun today. I was really impressed with our practice.

—BYU coach Bronco Mendenhall
PROVO — Coaches always hope to see improvement from one practice to the next. At times, improvement happens instantly. Other times, it takes awhile. Sometimes, it never happens.
Fortunately for BYU football coaches, they saw improvement in one key area in only the second session of spring practice Wednesday.
During practice-ending team drills, two big fights erupted that resulted in at least two players being asked to leave.
The altercations also left coaches smiling.
"The team was anxious to fly around — really anxious to compete," BYU coach Bronco Mendenhall said. "They like football. I think they're tough. I think they're physical. I had fun today. I was really impressed with our practice."
Mendenhall quipped that having two big brawls in only the second day of practice might be a "world record," but he said that it was a good sign.
"I like it (when) neither side will back down," Mendenhall said. "That's our approach in terms of when an opponent comes in, so might as well start now. I like it a lot."
A big key to Wednesday's fights may have been who started them.
BYU stipulates that media observers can't mention specific names of players involved, but it's safe to say the offense, and particularly the offensive line, was the instigator in at least one of them.
"Things need to be more like that," said linebackers coach Kelly Poppinga. "I think the defense has been like that for a long time, and I think it's been on the offense for a while. I think the offense has kind of lost it in the last two or three years, but I think with coach (Robert) Anae back I think they gained a little bit of that last year and more of that this year."
Playing with more emotion and passion is something offensive line coach Garett Tujague has stressed since arriving at BYU last spring. He preached it throughout last season and in the second day of spring camp, he saw it.
"We're not going to back down," he said. "I talk to my guys all the time about how if you love what you're doing, you got to fight for it. ... If I'm backed in a corner and fight for something I love I'm coming out swinging."
The next step, according to Tujague, is to take the level of passion and aggressiveness expressed Wednesday and play with it in a game.
"This is a great step. This is awesome, and we're headed in the right direction. But I want to see it on a Saturday," he said.
Email: [email protected]
Twitter: @BrandonCGurney