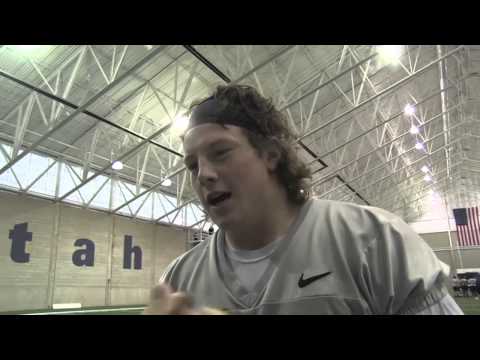 View 2 Items

The main focus is always development — individual development, group development, finding leaders and finding playmakers in spots where there are defections from graduation.

—Utah State coach Matt Wells
Things are looking up for the Utah State football program, with the Aggies piling up 20 wins the past two seasons and being just over two months removed from a momentum-building win over Northern Illinois in the Poinsettia Bowl.
Now, the next step in progressing the program is underway. Spring practices started Tuesday morning and continued Wednesday for the Aggies as Utah State heads into its five-week spring camp that will culminate with the Blue vs. White Spring Game on April 12.
"The main focus is always development — individual development, group development, finding leaders and finding playmakers in spots where there are defections from graduation," second-year coach Matt Wells told reporters after the team's first workout Tuesday morning.
The Aggies bring back plenty of talent — they have six returning starters on offense, five on defense and four on special teams. But spring ball will provide ample opportunities for younger and less experienced players to make their case for more playing time.
"The veterans know how to practice and the kids coming off redshirts and maybe scout team players don't know," Wells said. "They've got to learn, and it's about practicing intense, understanding the drill, understanding the speed and the tempo of the drill, and then understanding the objective of the certain drill. … They've just got to understand it better, and it's up to us as coaches to be able to communicate that."
As expected, senior quarterback Chuckie Keeton isn't fully back yet after tearing the ACL and MCL in his left knee in Utah State's loss to BYU last October. Prior to the injury, Keeton had thrown for 1,388 yards, 18 touchdowns and two interceptions and added 241 yards and two more touchdowns on the ground.
"He'll be limited; he'll eventually work himself back in after spring break into some throwing drills," Wells said of his quarterback who was being touted for Heisman consideration prior to the injury. "We'll limit him. He's straight ahead right now, his lateral stuff is going to start here soon with (strength and conditioning coach Dave) Scholz. (We'll) take him and progress him as he's able to."
Keeton's absence during drills will allow Darell Garretson — the now-sophomore who started in Keeton's place the final seven games of last season — to continue to develop his leadership abilities and knowledge of the Utah State offense. Garretson said his main goal of spring camp is "to get better and more fluid with the offense, learn it inside and out really and get it down like Chuckie has it down."
One of his returning receivers, junior Brandon Swindall, was impressed after Day 1.
"He's improved his confidence," Swindall told reporters about his impression of Garretson. "I liked his confidence coming out, knowing that he's going to complete the pass every play. … He improved good mentally."
While Utah State is having to replace five starters on defense, it does benefit from the return of three starting linebackers in Kyler Fackrell, Zach Vigil and Nick Vigil. Spring ball will allow the Aggie defenders a chance to gel and develop an identity as a group, one season after Utah State finished 12th nationally in total defense and seventh in scoring defense.
"We've got to have some more depth than we have right now. We've got a lot of young guys here and they're going to have to step up and play good for us this year if we're going to be successful," Zach Vigil told reporters. "From the linebacker position, we're still looking for another guy. For myself, my brother and Kyler Fackrell, we need to elevate our level of play. We have to be that much better to fill the spots of the people we lose."
No matter how difficult or monotonous things may get at times at the team practices from now through mid-April, though, getting back out on the field is a welcome sight for a team aiming to build off its recent success.
"We just want to go out there, have fun and get that ball back in the air," Swindall said.
Email: bjudd@deseretnews.com; Twitter: @brandonljudd