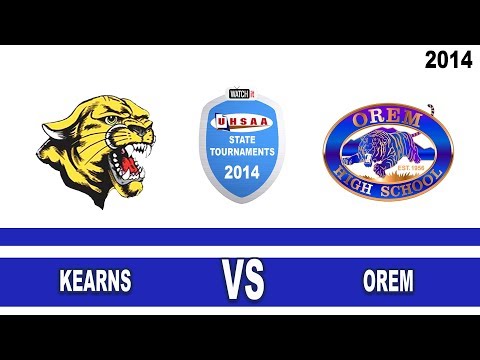 View 8 Items


SALT LAKE CITY — Orem stuck with its guns Wednesday night, and it paid off.
It would've been easy for the Tigers to abandon their rarely used zone defense after underdog Kearns hit four 3-pointers in the first 12 minutes of Wednesday's 4A quarterfinal, but coach Golden Holt never budged. He figured the shots would stop falling, and perhaps more important he believed the zone would continue to stop dribble penetration from Kearns' athletic guards.
Just as he predicted, Kearns couldn't get anything going from the perimeter after the initial flurry and Orem did just enough down the stretch to hold off the Cougars for the 48-37 victory at the Huntsman Center.
"We talked a lot in practice that teams' best shot is a missed shot, because they crash the boards really hard and it's all five guys, so we wanted to pack it in tight," said Orem guard Quinn Peters. "They hit some shots, but we knew they wouldn't do the same in the second half."
Orem's stifling zone defense limited Kearns to just 25 percent shooting, and that defense became more and more compact as the game wore on.
"They hit some shots early, but in the second half they weren't on with their 3s so we kind of packed it in more, forced them to keep shooting," said Orem's Dalton Nixon, who led the way with 18 points and 12 rebounds.
With the victory, Orem advances to Friday's semifinals and will take on Springville at 2:30 p.m. at the Huntsman Center.
As dominant as Orem was defensively, it could never quite put away the Cougars in the final two minutes.
Kearns went more than five minutes without scoring between the second and third quarters, but when it finally did score at the 6:30 mark of the third it only trailed 26-22.
Then in the fourth quarter when Orem opened up a 39-30 lead with 6:11 remaining, Kearns' Dacraeon Vines scored six points on three straight possessions to whittle the deficit to 41-36. Following several empty possessions by Orem, Kearns had three chances to cut it to a one-possession game and potentially swing momentum, but the shots never fell.
"The Kearns boys, that's a group that plays hard basketball. That's kind of street ball and they don't like to lose. We thought if we came out early we could break their will because of their game the other night, but they hung in there the whole game and that's a credit to them and to their coach," said Holt.
Ultimately, Nixon's interior presence was too much to overcome.
"At the end he seemed to be in the middle of everything defensively, got his hands on a few loose balls and moving his feet defensively, and then everything that was to be rebounded in the fourth quarter Dalton was up powering and getting it," said Holt.
Peters helped ice the game down the stretch going 10 of 13 from the free-throw line to finish with 14 points despite 2-of-8 shooting from the field.
Bushman Ebet led Kearns with 16 points, but 11 of those came in the first half when his shot was falling.