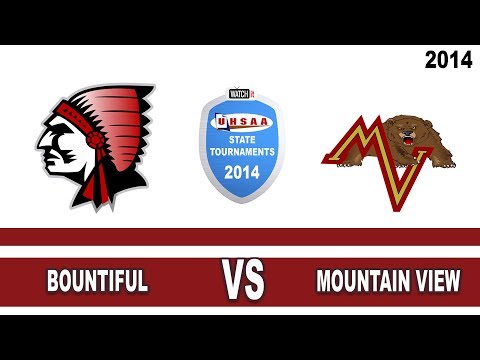 View 10 Items


We knew they were good but we didn't know they were that good

—Zac Seljaas, Bountiful forward
SALT LAKE CITY — After winning its 14 region games by an average of 32 points, and then beating Provo by the same score in Monday's first round, Bountiful might've been a little too confident in Wednesday's quarterfinals.
Don't be mistaken, the Braves knew 19-win Mountain View was a formidable foe, but they had no idea the Bruins were so tenacious and feisty.
"We knew they were good but we didn't know they were that good," admitted Bountiful's Zac Seljaas afterward.
Fortunately for No. 1 Bountiful, the surprise only lasted three quarters. Leading Mountain View by just two at the half and one after the third, it dominated the fourth quarter on its way to the 61-46 victory at the Huntsman Center.
With the victory, Bountiful advances to face Olympus in Friday's semifinals at 4:10 p.m.
After officially surviving the upset bid, Sam Merrill said the dogfight might actually be beneficial going forward.
"I'm not saying we wanted a close game, but it's good for us to kind of get challenged a bit and fight through," said Merrill, who recorded 16 points and eight rebounds.
Bountiful certainly needed to work to survive.
Mountain View led 17-12 after the first quarter, and then despite scoring just three points in the second quarter only trailed 22-20. The reasoning for the early success was obvious — it outrebounded Bountiful 19-13 in the first half, including 11 offensive rebounds.
Bountiful coach Mike Maxwell had every reason to be disappointed with the rebounding effort of his players.
"They looked at their size and they think 'oh yeah we've got them,' " said Maxwell. "Rebounds are about heart and they showed they have a lot of heart. It doesn't matter how big you are, especially in high school. Little guys can rebound if they have heart, those guys have it. We had to figure out where our heart was in the second half, and they did and I'm proud of my guys."
Bountiful only allowed two offensive rebounds in the second half, and it finally started to pay off after a brief scare in the third.
Trailing 31-26 with 3:26 remaining in the third, Mountain View scored seven quick points over a 90-second stretch to take a 34-31 lead. Spencer Conrad accounted for five of those points, finishing the game with 12.
Comment on this story
Bountiful regained a 35-34 lead by the end of the quarter on a Merrill dunk and really opened things up with a 6-0 run to start the fourth.
"That turned the whole game around, we stopped them from making easy shots and getting seconds and thirds and fourths," said Maxwell.
During one sequence in the first half, Mountain View had five offensive rebounds in the same possession, but it rarely sniffed the offensive glass after halftime.
Seljaas led the rebounding resurgence in the second half, finishing with 10 boards to go along with his 19 points. Jeff Pollard added seven rebounds and 11 points.