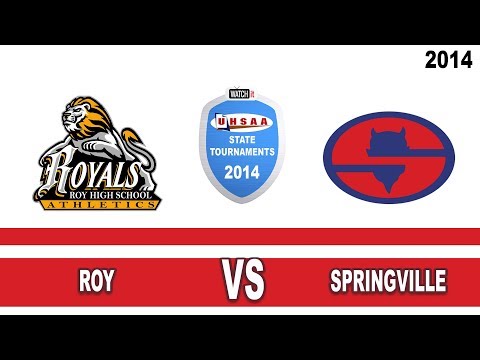 View 11 Items
Buy photos


SALT LAKE CITY — Springville had seemingly done everything in its power to lose. The Red Devils used a combination of missed free throws, untimely turnovers and the off-night of their best player to discard an eight-point lead.
"I told them to have courage and to be composed," Springville coach Chris Kitchen said. "There was not an ounce of fear in their eyes."
Max Schreiner — never lacking courage — knew he needed to demonstrate his composure. He'd only scored four points and committed eight turnovers, but all could be forgiven at the line. The Red Devils' season-long leader sank two free throws to fulfill his coach's message and send his team to the 4A semifinals with a 48-45 win over Roy at the Huntsman Center Wednesday afternoon.
"Max Schreiner struggled tonight, which is not typical for him," Kitchen said. "He had eight turnovers and six points, but the two free throws he hit at the end of the ballgame were huge for us."
The two programs were evenly matched to the core. Both finished with 24 points in the paint and rivaled each other in rebounds, assists, steals, second-chance points and points off turnovers. The difference ultimately boiled down to free throws. Springville finished 15 of 20 (75 percent), while Roy finished 11 of 21 (52 percent).
"I'm feeling really good. I've very pleased with my team tonight," Kitchen said. "Free throws were big for us tonight. We shot 75 percent and we missed our first three."
After three minutes of scoreless action to open the first quarter, Roy's Chase DeBoer netted a corner 3-pointer to give the Royals a 5-2 lead without the assistance of Brekkott Chapman, who missed his second consecutive game for an unspecified violation of team rules.
The absence of the future University of Utah player, ranked 46th nationally in his recruiting class, will ultimately leave people wondering, "What if?" Roy won the earlier matchup against Springville, 54-49, with 14 points and six rebounds from Chapman.
"Brekkott is a wonderful young man," Kitchen said. "Obviously I think he's one of the top kids coming out of the state, and not having him hurt his team. He knows that, they know that, and we know that. We liked our chances with him (in the lineup), but I've got nothing bad to say about that young man. I wish him the best going forward."
Springville opened up a six-point lead in the third quarter with four quick points from of Max Terry after leading by two at the break. However, Roy inched its way back and evened things at 28-28 on Nate Jones' layup before Rhett Clark personally accounted for seven straight points.
"If you've got one guy on your team and that's it — that's pretty easy to guard and game plan for. You've got to have multiple guys," Kitchen said of Clark's ability to step up in replacement of Schreiner. "But more important than having multiple guys (is) you've got to have multiple guys that will step to the plate. For high school students, this is a pressure situation in a big stadium. Having multiple guys that can score is one thing — it's (another) having guys that come through when you need to have them."
After the teams exchanged buckets, Springville captured its biggest lead, 45-37, when Kayden Hillstead beat his defender with a hesitation dribble and presented a layup for Schreiner on a one-handed scoop pass.
The Royals, as they had done throughout the game, retaliated with another run and pulled within two on Blake Lamb's second-chance layup with 1:35 in regulation before Schreiner's free throws.
"We thought we could get the things we wanted to get," Kitchen said. "We missed a lot of layups, especially early on. They went on a nice run and kept it close, but I was really pleased with how our guys kept their heads in it and finished the game."
Twitter: @phibbs_