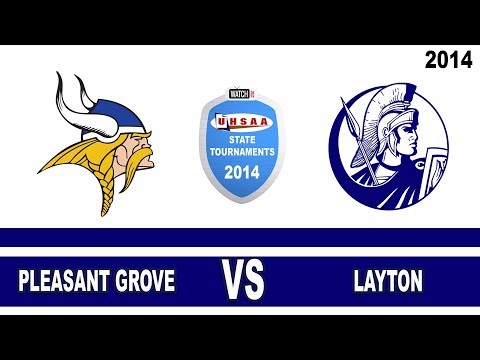 SALT LAKE CITY — After beating Davis in its regular-season finale last week, Layton had high hopes for making some noise in this week's 5A state tournament.
Pleasant Grove made sure the Lancers' stay was a short one, however.
On a day when 5A's elite dominated in the first round, Pleasant Grove put on an offensive show at Layton's expense in rolling to the 82-69 victory in the nightcap at the Huntsman Center Tuesday.
Matt Conway led the charge with 35 points — three off his career high — and 10 rebounds. Three other players scored in double figures as the Vikings shot 61 percent and enjoyed a 44-18 edge in the paint.
"I think tonight they came out and set a pace that Layton maybe hadn't seen and or wasn't comfortable with. Got the big guys a little tired and maybe got them in foul trouble and set the tone in the direction we wanted tonight," said Pleasant Grove coach Randy McAllister.
It was the sixth time this season Pleasant Grove scored more than 80 points, and it was the most points Layton gave up all season.
"We've just been a team that's focused on running both directions all year. We want to run as fast as we can to get on offense and as fast as we can to get on defense," said McAllister. "We've been pushing them and pushing them and pushing them and reiterating that, and it shows with our scoring average."
With the victory, Pleasant Grove advances to Thursday's 5A quarterfinals and will face Alta at 2:30 p.m. Alta handed the Vikings one of their only three losses back on Dec. 10, 65-54.
"They're big and strong at every position, and we didn't handle that very well at all," said McAllister. "They kind of pushed us around. Our kids will know what to expect this time. It will be a great game. A great defensive team against a pretty good offensive team, so we'll see what happens."
Pleasant Grove was in control throughout the game, increasing its leading every quarter and stretching it to as many as 17 midway through the fourth.
Conway did his damage early and often. He recorded 18 points and seven rebounds at the half, and didn't let up in the second half.
"He's the first option most of the time for us, and boy he was finishing tonight. It was nice to see him working against bigger guys and do what he did tonight. It was impressive," said McAllister.
With Pleasant Grove leading 38-28 at the half, Conway and Mark Sheffield opened the second half with four points each as the Vikings quickly built a 50-34 lead with 4:38 remaining in the third.
Comment on this story
Layton responded with a 10-2 run to cut the deficit to 52-44 with 1:08 left in the third quarter, but that was as close as the Lancers could get.
Riley Court added 12 points, five rebounds and five assists for the Vikings, with Sheffield adding 18 points. Forrest Pincock also had a strong game with 10 points and five assists.
For Layton, it was certainly a frustrating way to end the season. It shot 49 percent from the field and had three players score in double figures, led by Brandon Hill's 23.
Unfortunately for the Lancers, defensively they just couldn't get stops.