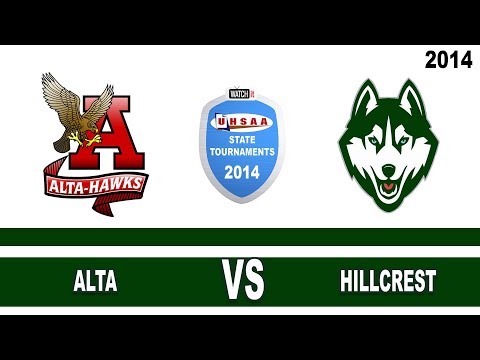 SALT LAKE CITY — An unfamiliar venue coupled with the gravity associated with playing in a single-elimination tournament. It can cause stress and uncharacteristic play from even the best teams.
Few schools know that better than Alta, which advanced all the way to the 5A championship game last season.
For this reason, Alta coach Jim Barker was a bit surprised, and even disappointed, with his team's slow start in Tuesday's opening round against Hillcrest.
Fortunately for the Hawks, they rebounded in the second half — winning the game by a comfortable 62-42 margin and advancing to the second round.
Alta's Zach Rollins led the way with 15 points, while Landon Albrecht and Trevor Hill added 14 and 12 points, respectively. Hillcrest was led by Andrew Reich and Tanner Thompson, who both scored 11.
But point totals weren't the story of Tuesday's game — they hardly ever are when the Hawks play.
Defense rules at Alta, and increased defensive pressure paved the way for a dominating second-half performance.
"The thing with Alta is defense," Albrecht confirmed. "We always like playing defense real hard."
After Hillcrest cut Alta's lead to 30-25 entering the half on a 30-foot 3-pointer from Tanner Thompson, Barker's halftime directive was relatively simple.
"Everyone came in worried about that shot ... so I just told them not to freak out about it and not worry about it," Barker said. "I just told them to calm down and not get too caught up with the momentum. I just told them that we're fine and to stay calm."
The message was well-received as Alta put together a 9-0 run to start the second half to lead 39-25 with 5:32 remaining in the third quarter. Ultimately, the Huskies scored just six points in the third as the Hawks took a commanding 42-31 lead into the fourth.
From there, the defensive pressure remained constant as Alta did what was required to pick up the first-round win.
Hillcrest managed just 19.2 percent shooting in the second half as Alta's pressure defense created all sorts of problems.
Despite his team's rally in the second half, Barker knows his players have to be better Thursday when they take on a tough Pleasant Grove team.
"I think if we play like this we'll probably lose," Barker said about Thursday's game. "The nice thing is we didn't today and we can get focused for the next round."
Email: bgurney@desnews.com
Twitter: @BrandonCGurney