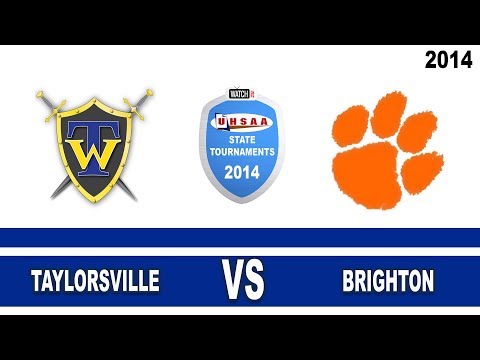 View 25 Items

SALT LAKE CITY — It was a frustrating first half to say the least for Brighton's Brock Miller on Tuesday.
On the big stage at the 5A state tournament, Miller simply couldn't get anything going offensively. During the opening two quarters, he scored just three points on 1-of-9 shooting.
Brighton still led by two at the half despite Miller's struggles, but everyone knew he needed to get things going for the Bengals to pull out the first-round victory at the Huntsman Center.
Miller, who averages 17.8 ppg, responded to the adversity in a big way.
The junior scored 17 points in the second half, finishing with 20 for the game, and added a season-high four assists to lead the Bengals to the 65-60 victory over Region 2 champion Taylorsville.
"The great thing about Brock is he has a short memory. He had a tough first half, but I was really pleased with the way he came out in the second half, was a little bit more aggressive to the basket," said Brighton coach Jeff Gardner.
No shot was bigger than Miller's 3-pointer with 2:30 remaining in the game. With Brighton leading 56-53, Miller noticed his defender backing off anticipating the drive, so he let loose an angle-right 3-pointer that stretched the lead to 59-53.
In the first half, Miller couldn't get anything to drop, but he responded the way you'd expect from a team leader.
"The rim seemed a little shorter, so I just came in the second half looking more aggressive to get my game going a little bit to attack and get some easy ones to get the flow going and open it up for everyone else," said Miller.
Leading 29-27 at the half, Brighton never trailed in the second half — but couldn't ever put away the Warriors either. They stuck around trailing by about three points most of the second half until Miller's big 3-pointer.
Taylorsville's Jevin Warren — who led his team with 20 points — and Sidney Freeman hit some big 3-pointers earlier in the fourth quarter to keep things close, but the Warriors couldn't ever get over the hump.
"Eric Bennion, defensively, did a great job on Freeman, who's a tremendous player," said Gardner. "We had our hands full with Warren and Freeman and I thought Eric did a really good job making Freeman earn his points."
Freeman still finished with 13 points, but Bennion's efforts kep
John Gremillion stepped up huge for Brighton finishing with 17 points and 10 rebounds to compliment Miller's strong second half.
With the victory Brighton advances to the 5A quarterfinals and will face American Fork at 4:10 p.m. on Thursday.
It will have to do so without second-leading scorer Osa Masina, who broke his finger in gruesome fashion falling to the floor after trying to block a shot with 2:45 remaining in the third quarter. Brighton led 40-37 when the injury occurred, and Gardner was pleased with how his players picked up the slack without Masina on the floor.