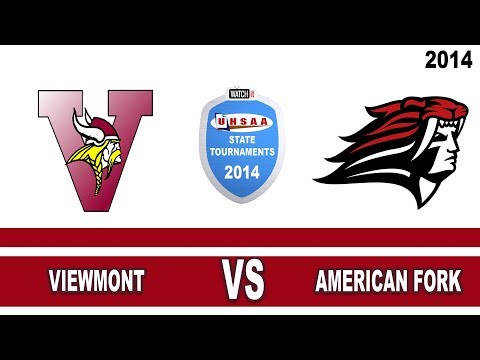 View 20 Items

SALT LAKE CITY — On paper, this looked like a very promising first-round matchup in the 5A boys state basketball tournament.
After all, Viewmont was the Region 1 runner-up, American Fork finished third in Region 4, and the two teams had virtually identical regular-season records — the Vikings at 15-7, the Cavemen 15-8.
But as soon as they took the court, it was immediately evident that Viewmont had no answer for American Fork's imposing "Twin Towers" — 6-foot-10 Ryan Andrus and 6-9 Tyler Rawson — as the Cavemen viciously clubbed the Vikings 72-42 on Tuesday at the Huntsman Center.
Andrus and Rawson combined forces for 30 points and 18 rebounds, and Rawson also contributed six assists, six blocks and a couple of eye-popping putback dunks as A.F. advanced to Thursday's quarterfinals.
"I've always said I feel like we have the two best bigs in the state, and by two best bigs I mean two best bigs," American Fork coach Doug Meacham said of his stellar senior duo of big men. "I think they play well with each other and they're not selfish.
"They're ones that will pass out to those guards and, if those guards continue to throw it in, they're going to get rewarded."
Andrus, who'll play his college ball at BYU, had a game-high 17 points along with eight rebounds, while Rawson, who's headed for Southern Utah University after graduation, contributed 13 rebounds and a game-high 10 boards along with his assists and blocks — which were both also game-high totals by a wide margin.
"We're pretty blessed," Rawson said. "The 'Twin Towers' have always been at A.F. and it's sad that we'll be leaving after this season, but hopefully we can leave a great legacy there."
Coach Meacham said an online story — written by Deseret News sportswriter Brandon Gurney — that listed the top 20 players to watch in this year's state tournament proved critical in giving Rawson plenty of extra motivation for Tuesday's tourney opener.
Rawson, you see, was not among those players listed, and that fueled his burning desire to prove himself.
"Sometimes a newspaper will write an article about a player or about players, and someone might be omitted out of the top 20 players to watch," Meacham said. "And I think Tyler Rawson kinda came out and played with a little chip on his shoulder.
"We know how valuable and how good he is to us and what kind of player he is. But I think he helped us set a tone not only offensively but defensively."
Rawson admitted that being left off that top 20 watch list gave him even more competitive fire.
"Yeah, I saw a list and I didn't agree with it one bit, and I had to just come out and prove myself," he said. "That's what I wanted to do today, and I think I did it."
Spencer Johnson and Braden Condie added 10 points apiece, and Brendan Bailey contributed eight more points and six rebounds for the Cavemen (16-8).
For Viewmont (15-8), which fell behind 20-8 after the first quarter and trailed 31-15 at halftime, McKay Butler led the way with 11 points, while Max Porter chipped in with nine, and Kelton Hirsch and McKay Johnson had seven points apiece.
But the Vikings shot just 23.6 percent (13 of 55) from the field and 14.3 percent (3 for 21) from 3-point range, while the Cavemen connected at a slick 54.9 percent clip from the field.
"There were a couple stretches there defensively, I thought, we were real solid, forced them to change it a few times and take some tough shots," Meacham said. "You hope we play some consecutive games so that you've got to take advantage and rest on the offensive end, and defensively we were giving it everything we had for the most part."
Meacham admitted he was surprised by the lopsided final outcome.
"You always worry," he said. "Coach Jeff (Emery) does such a great job with their team, and you're always worried with his (Viewmont) team because they're always scrappy and they'll always compete and execute.
"And I think our guys really were focused in preparing how to defend. I thought our 'black' squad in practice was really good to execute and show us some Viewmont looks, so that makes this a huge team effort."
Rawson said he and his teammates simply followed the game plan that had been prepared for them — one that has worked so well for the Cavemen this season.
"That's our game plan, to pound it inside and get the boards. Guards can take as many shots as they want — me and Ryan are gonna clean it up," he said. "So especially on defense, we shut 'em down and Coach prepared us really good and that was a big key for us.
"... We were super-prepared. Coach had tons of film hours going through their sets and whatnot and we shut down their top guys, and I was glad it was lopsided.
"We go inside-out and if their guards start sagging down on us then we can kick it out to our guards and they can start knocking down shots. That's been our game plan the entire year," said Rawson. "We shut 'em down defensively and then the offense clicked. Our defense fed the offense today."
EMAIL: rhollis@desnews.com