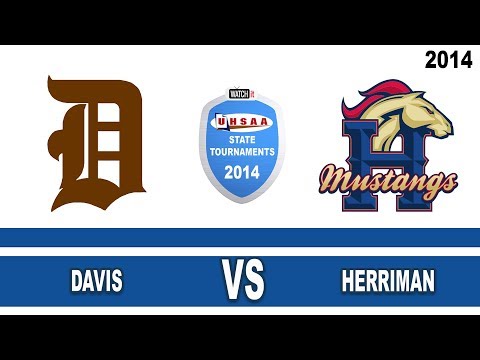 SALT LAKE CITY — There would be no stunning state tournament upset in this one.
Not this time. Not even close.
Indeed, whenever a decided underdog shocks the world by rising up and knocking off a huge favorite, it's one of many memorable things that make high school basketball such a joy to watch.
But Davis High has been here many times before, occasionally playing the frustrating role of the favorite who suffers a devastating, season-ending defeat. And there was no way these determined Darts were going to let that happen to them on Tuesday.
Not this time. Not even close.
Instead, this year's Region 1 champs got a double-double from senior center Elijah Kletzli, double-digit scoring from two other players and a fierce defensive effort fueled by senior guard Jaydon Ryan to hammer Herriman, 67-37, in a Class 5A first-round mismatch at the Huntsman Center.
"We've been in that position before. We've been a (No. 1 seed) and been knocked out," said longtime Davis High head coach Jay Welk. "That's happened to us twice, so you learn a lot in those situations.
"First-round games are so scary. And one thing I've learned over the years is you can't take games like this (lightly) — and we know we've got a pretty good basketball team — but they have the leading scorer in the state (David Maynard) and they're a young team, they're a hungry team.
"But I thought our kids responded well. They stuck to the script and did a good job, so I was really pleased with that," Welk said. "Teams will just get better as we go, so we've got to pick our game up from this one."
Kletzli had 20 points on near-perfect 10-of-12 shooting and he also pulled down 11 rebounds for the Darts (20-2).
"My teammates just gave it to me in our sets and they were just finding me, creating for each other, passing and assisting," Kletzli said.
"Herriman's a good team, and we knew that. We knew that we had to come out to play. I mean, it's the state tournament and anyone can get upset, anyone can lose. So you've just got to be ready every single game and make sure you take care of business."
Davis junior guard Jesse Wade scored 16 points and had six steals, and Matt Morrell added a dozen points along with seven rebounds, five assists, two blocks and six steals of his own.
Ryan sparked a stellar Davis defense that held Herriman to just 21-percent shooting and limited the Mustangs' Maynard to just 11 points, less than half his season average of 23-plus ppg.
Senior guard Abel Porter contributed eight points and five assists for Davis, directing the Darts' offense with precision and unselfish passing. They shot 56 percent from the field — 14 of 25 in each half — and had 17 assists, 14 steals and just nine turnovers.
"That's our goal. We want to play defense and we want to pass the ball," Porter said. "That leads to a bunch of layups, and I think Elijah was a big benefactor of that today. He had a huge game.
"He's that big inside presence that we need on defense and on offense, and he was finishing everything today. They really couldn't stop him and we just kept going to him."
For Herriman (12-11), Maynard managed just 4-of-12 shooting from the field and was the Mustangs' only player in double figures.
"To be quite honest, we're a veteran team. We've got two guys that started last year, and they're very young," Welk said. "They (the Mustangs) start one senior, and I say, 'Watch out for Herriman.' They're gaining valuable experience here throughout. They're in a tough league, they're very young, they've got two very good scorers on that team, and I think they're a team that's going to be very, very dangerous down the road."
Welk couldn't say enough about how well his kids played.
"I thought Matt Morrell was the guy who really kinda got us going. I said during a timeout, 'Hey, who's getting all our rebounds?' And it was Matt Morrell. He's what, a 6-1 4-man, but he's very, very athletic," Welk said.
Comment on this story
"And Elijah just needs to believe in Elijah. When he does that, he's really good. He's skilled. What he's doing might be a surprise to everybody else, but it's not a surprise to his teammates or his coaching staff at all. He's a player, and the interest in him is just picking up and picking up.
"And then Jaydon Ryan, the job he did," the Darts' coach continued. "He will go overlooked, but he had to guard Maynard — he's the leading scorer in the state — tonight and holds him to 11. I think he's averaging 23 points a game, and if I had to give a game ball out tonight, it'd probably go to Jaydon Ryan. It really, really would, just because of the job he did on Maynard. He didn't get in foul trouble, he stayed down, and Jaydon Ryan did an awesome job."
EMAIL: rhollis@desnews.com