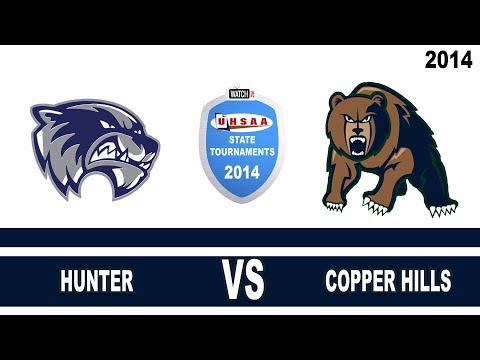 View 26 Items
Buy photos

SALT LAKE CITY — With 90 seconds remaining in regulation of his first playoff game, Copper Hills guard Preston Sanchez calmly stepped to the free-throw line with his right eye blackened.
The sophomore guard effortlessly sank two freebies to extend his team's lead to four. Moments later, he repeated the act twice more to preserve the Grizzlies' 55-47 first-round win over Hunter in the 5A basketball tournament at the Huntsman Center on Tuesday afternoon.
"He's a great player and a young player that is going to get better in time," Copper Hills coach Andrew Blanchard said of Sanchez, who finished with 13 points and seven rebounds. "Preston is a guy that we need to be good, especially from the free-throw line and controlling the ball."
Hunter, which entered the postseason as the No. 2 seed from Region 2 despite finishing below .500, tried to tempt Copper Hills into making youthful mistakes. But each time the sophomore-laden Grizzlies responded with resolve typically unassociated with inexperience.
"We talked about what's going to happen and there's going to be a lot of runs," Blanchard said. "It's a roller-coaster ride of sorts, so it was nice to see our guys regroup, recover, and make a little run of our own at the end of the third and the beginning of the fourth."
The Wolverines were led by Noah Togiai, who at times single-handily prevented Copper Hills from putting the game out of reach. The University of Utah commit scored 21 points along with nine rebounds, four assists and two steals.
"He's an exceptional player. There's no question," Blanchard said. "He's a load and we don't really match up well against him with our size. I don't know what he ended up with, but we had to have had him under his average, and that was our goal. If he was close to 22, I think we're OK."
With 4:20 remaining until halftime — after the first quarter was marred by sporadic execution — Copper Hills grabbed a 22-13 lead on a layup by Porter Hawkins, another sophomore who notched a double-double with 14 points and 10 rebounds.
"That's something that we've really gone over a lot with Porter is making sure he can come out and get on the offensive glass," Blanchard said. "He did a great job tonight. He got some offensive rebounds and second opportunities."
At the beginning of the fourth quarter, after Togiai swished a mid-range buzzer-beater to end the third, Charlie Olsen pocketed a 3-pointer before Sanchez chipped in an easy layup to inflate the lead back to seven, 43-36.
Togiai initiated another burst shortly thereafter, while Copper Hills appeared to tighten and uncharacteristically switched to the four-corners prevent defense. Eventually, Togiai connected on a straightaway 3 to pull the Wolverines to within two at 47-45 before Sanchez delivered at the line.
"Nothing much," Sanchez said when asked what his thought process was at the line. "I just like to clear my mind."
Copper Hills advances to the 5A quarterfinals on Thursday with the win, where it will face Davis.
"They're one of the best teams in the state for a reason," Blanchard said of the Darts. "They've got some exceptional guards that can play and shoot. We have nothing to lose. We're going to go out there and play as hard as we can and the pressure is going to be on them."
Twitter: @phibbs_