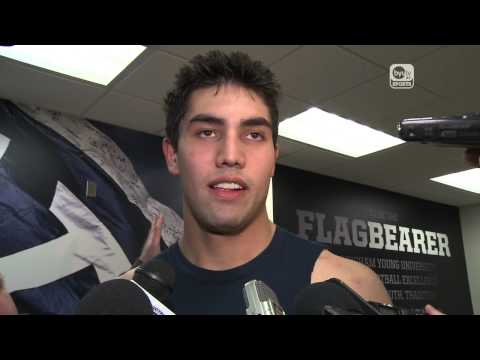 View 9 Items




PROVO — BYU kicked off its spring camp Monday with some new faces, a few new concepts, and typical excitement for the coming season. Despite all that's new, it's what isn't new that may be the Cougars' biggest advantage moving forward.
Last year at this time, focus was centered on the "go-fast, go-hard" concept that new offensive coordinator Robert Anae was unveiling. This year, that theme wasn't even mentioned until it was brought up by the mdeia.
That's a sign of progress, according to BYU coach Bronco Mendenhall.
"It's just become so commonplace that what the intent now is not to sacrifice efficiency or specificity for the pace, but to add things to the pace," Mendenhall said. "So that would be the next focus ... to go fast with a little more efficiency and specificity than last year — especially against better opponents, scoring more points in those games."
To aide with the goal are some fresh and exciting additions at both receiver and offensive line. A load of experience, meanwhile, returns at running back and quarterback.
"I'm real excited for this spring ball because of that," said junior-to-be quarterback Taysom Hill of having a year under his belt. "Now we can be comfortable and really hone in on the stuff we want to get better at instead of running a new offense. I think it will really help us take a leap forward."
Key additions at receiver include junior college transfer Nick Kurtz, who incurred the typical physical and mental shock associated with a first Division I practice. "His head was spinning a bit, but he'll be fine. I like how he works so far," said receivers coach Guy Holliday.
Another new face at receiver is Michael Davis, who was switched temporarily to cornerback last season before switching back this spring. Davis showcased a little of what he's capable of, hauling in a long reception on a post pattern during drills.
"I like his ability to stretch the field and that's why we needed him back with us," Holliday said.
As for the offensive line, coaches like the ability to go two- and even three-deep this spring with some welcome additions. Converted defensive tackle Tuni Kanuch and freshman returned missionary Ului Lapuaho were two players pointed out by Mendenhall on day one.
With the concepts in place from last season, the offense is now looking to refine its overall product — specifically inside the opponent's 20-yard line.
"I'd like to see us focus on our 'blue zone' scoring," Mendenhall said. "We won't get personnel specific there until fall, but I really like some of the concepts we have developed there."
With regard to the battle for backup quarterback, Anae stated quite plainly that it's Christian Stewart's job to lose.
"He's a senior and he earned it last year," Anae said. "With the departure of Ammon (Olsen) he is our No. 2 quarterback."
On defense, Mendenhall pointed out the need to establish better depth at both inside linebacker and along the defensive front. At inside linebacker, the team is looking to replace standouts like Uani Unga, Austen Jorgensen and Tyler Beck. At defensive line, it's all about replacing Eathyn Manumaleuna.
Overall, the team expressed optimism and excitement for what's in store.
It's great to be on the football field again," Mendenhall said. "It seems like a long time ago since the season and it seems it's not so long ago, but our team worked hard today and is certainly starting from a lot different place than last year offensively in terms of how much they know about the system."
Held out of action
BYU players held out of spring practice Monday included:
Mitch Mathews (shoulder)
Ross Apo (shoulder)
Brayden Kearsley (academics)
Marques Johnson (blood clot)
Brock Stringham (shoulder)
Adam Hine (shoulder)
Iona Pritchard (ankle)
Jordan Johnson (knee)
Michael Alisa (groin)
Kalolo Utu (wrist)
Teu Kautai (shoulder)
Most players not participating in the spring are coming off of offseason surgeries and are fully expected to participate in the fall.
Email: [email protected]
Twitter: @BrandonCGurney