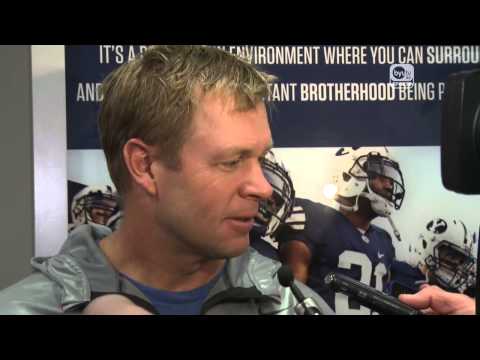 View 8 Items

PROVO — The search began Monday to find a replacement for BYU's graduated defensive coach on the field — KAT safety Daniel Sorensen.
That won't be an easy task. Sorensen was pretty good during his college career and just finished blowing up the NFL combine in Indianapolis.
After the first day of spring camp Monday, it looks like hard-hitting strong safety Craig Bills, a senior, will replace Sorensen at KAT. Bills knows the defense, is trusted, and has been a leader in the secondary ever since coaches started giving him playing time.
Along with Bills, it appears that Robertson Daniel, a starting corner last year, will be cross-trained to play Sorensen's KAT safety position. That leaves the strong safety position and backup to Bills open for competition. BYU coach Bronco Mendenhall specifically mentioned Las Vegas sophomore Kai Nacua as a person to watch.
Other candidates include a trio of transfers who are all similar in size to Sorensen: Mike Wadsworth, who left Hawaii to return home to Utah; former Notre Dame safety Chris Badger, who starred at Timpview in high school; and Colorado State transfer Drew Reilly, younger brother of Utah's best defensive player in 2013, Trevor Reilly.
Sorensen's skills, knowledge of BYU's defense, leadership and example leave a big void for defensive coordinator Nick Howell. Filling it won't be automatic or trouble-free.
Sorensen had a reputation on BYU's team as an athletic anomaly when it came to his drive, football intellect and desire. His teammates thought he was indestructible. He avoided injuries in practices and games. This past year, when he got a concussion, everyone on the sideline couldn't believe it. "Can't be. He never gets hurt," mumbled players among themselves.
"Danny is just a freak," said his cousin, former kicker Justin Sorensen.
"If you read some of the scouting reports over the years, he knew it as well as the coaches. He just got it. He lives for it, he trains for it, he dreams of it, and eats and sleeps for football."
Justin said Daniel grew up in a very competitive family, including older brother Brad (now a San Diego Chargers quarterback), and they got after it all the time. "They were just one of those families," said Justin. "There's the story of the time his older brother was making fun of his grandpa during a Laker-Celtic game and his grandpa bit his arm and locked him in a closet."
Sorensen ran the fastest 40 time of all the BYU football players in the NFL combine last week. And he was mad. He thought he could've run faster and vowed to do so on BYU's pro day, which is scheduled for March 14 on campus.
As it stood, Sorensen blew things up during the combine, establishing remarkable numbers that had many scouts scratching their heads.
In the three-cone drill shuttle, which measures the ability to change direction at full speed, Sorensen had the best time of any defensive back in the combine. His mark of 6.7 seconds was the fastest NFL combine time by a safety since 2006, the second-best time among all defensive backs (including corners), and the fifth-fastest time from any position overall in eight years.
Sorensen ran a 10.80 time in the 60-yard shuttle, and that was the best time recorded by any safety in the past nine combines and ranked fourth-best among all in the combine in nine years. Only Oregon State wide receiver Brandin Cooks (10.72) was faster this year.
Sorensen also stood out in other workouts, according to Dion Caputi of NFL Draft Update.
8
comments on this story
"BYU S Daniel Sorensen with maybe the most comfortable display of soft hands I've seen from the entire DB group," Caputi wrote.
"I'm telling you," said his cousin Justin, "Daniel is a freak of nature, always has been."
So, as spring football kicked off Monday, the hunt for a new Sorensen began.
This spot has been key for Mendenhall during his time as a defensive coordinator and head coach, with stars like Sorensen, Andrew Rich, Aaron Francisco and Brian Urlacher (at New Mexico) manning the position.
Is there a guy of that caliber among this year's candidates?
Bills may fit the bill.
We shall see.
Dick Harmon, Deseret News sports columnist, can be found on Twitter as Harmonwrites and can be contacted at dharmon@desnews.com.