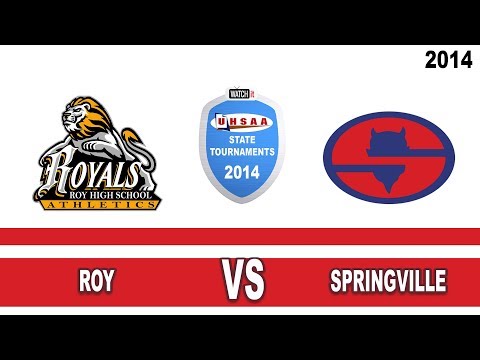 To be down eight with four-and-a-half left and to battle back, I told them we passed that test. We passed the emotional and mental test.

—Roy coach Dan McClure
SALT LAKE CITY — For the Roy boys basketball team, the opening round of the 4A state tournament was all about resilience.
First, the Royals had to bounce back after learning — just 10 minutes before boarding the bus to the game — that their star forward, Brekkot Chapman, would not be in uniform for the Monday afternoon contest after violating team rules.
Then, the Region 5 champions had to respond to a deficit on the scoreboard, one that grew to as large as eight points as late as halfway through the fourth quarter.
"I told them I thought we'd be good enough physically today," Roy coach Dan McClure said after his team eked out a 62-60 victory over Skyline at the Huntsman Center.
"I didn't know how we'd respond to the challenge emotionally and mentally," he said. "To be down eight with four-and-a-half left and to battle back, I told them we passed that test. We passed the emotional and mental test."
Early on, it was the Eagles, the fourth-place team from Region 7, who were more emotionally prepared. The underdogs hit four 3-pointers and added another three free throws after being fouled on a 3-point attempt to post a 16-16 tie by the end of the first quarter.
Skyline continued to keep pace with the Royals throughout the second quarter, taking advantage of Roy extending its defense by scoring points with back cuts and drive-and-dish setups. The Eagles shot 52.7 percent from the floor and recorded 12 points in the paint by halftime.
The lead grew to its largest margin of eight points, 51-43, with 4:30 left in the game, prompting McClure to call timeout and reenergize his players.
"I called timeout there and I told the guys, 'Hey, you've got a long time,' " the coach said. "I said, 'We've got a long time. You've got to keep battling, you've got to play every possession. Every possession is crucial from here on out,' and I think they did a really good job with that."
After leaving that timeout, the Royals went on a three-minute long 12-0 run, which gave Roy a 55-51 lead and was capped with the second of junior Nate Jones' steal-fast, break-dunk sequences.
"Obviously the two dunks, really nice," McClure said, the first of which came at the end of the third quarter. "More than that, defensively it was really good. Good to step out in the passing lanes and make two really crucial plays — and it's always nice to finish off with a dunk. Those were two crucial stops and baskets for us. He was big."
Jones finished with 12 points, five rebounds, four assists and eight gigantic steals.
"We were missing our big guy, Brekkot Chapman, so somebody had to step up," Jones said. "We talked about it. We told Cody Hobbs he had to step up, too, and he played good, too."
Hobbs, a junior guard, and senior guard Chase Deboer each scored 17 points in the win while the former had six rebounds and the latter five.
The Royals scored seven more points to finish the game, and all of them were from the foul line as Skyline tried to create more possessions and claw back into the lead. Zach Boudreaux hit a 3-pointer from half court at the buzzer, but it was too little too late.
Boudreaux had 14 points and three assists for Skyline while Alex Meldrom led with 21 points and three assists.
With the win, the Royals will play again Wednesday at 5:50 p.m. However, Chapman's status moving forward has not yet been decided.
sthomas@desnews.com
Sarah Thomas earned a degree in Mathematics from the University of Utah and is currently pursuing an MBA at Westminster College. She has been covering sports for the Deseret News since 2008.