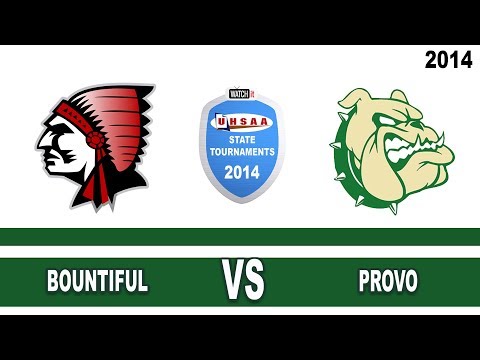 SALT LAKE CITY — Society loves rooting for the underdogs. The inspirational message is motivating and relative to many current and former athletes. Hollywood's depictions of underdogs in movies like "Rocky," "Hoosiers," "The Karate Kid" and "Dodgeball" only fuel the obsession.
Monday night, however, was not one of those movies.
Despite a jittery first quarter, Bountiful reaffirmed its consensus No. 1 state ranking with a dominating 76-44 win against an overmatched Provo team in the first round of the 4A boys basketball tournament at the Huntsman Center.
"As much as we thought we wouldn't have (them), the nerves are always there for that first game," said Bountiful guard Sam Merrill. "We were able to pick up the defensive intensity a little bit, and offensively we were kind of stagnant at the start and we started moving the ball better. First and foremost it was defense that got us going."
Merrill was one of four Braves to reach the double-figure plateau with 20 points, along with Jeff Pollard (14), Zac Seljaas (10) and Jordan Bleak (10). Trevor Lloyd added nine points and three assists. Provo's Hunter Bailey and Grayson Magleby combined for 24 points in the loss.
"You have to play at 7:30 at night and you're sitting around and waiting and you got to go through all that — it's hard," Bountiful coach Mike Maxwell said. "It's a little bit out of their normal routine. It just took a little bit, and I suspect we'll be over that on Wednesday."
Bountiful topped Provo in points in the paint (42-14), points off turnovers (18-2), second-chance points (15-2), fast-break points (12-0), bench points (16-8), rebounds (36-20), assists (17-3), steals (8-5), blocks (6-0) and shooting percentage (56-33).
Nonetheless, after the first eight minutes, Provo found itself only trailing 12-10. The Braves had missed several routine shots when Maxwell finally calmed the pace. The veteran coach called for Seljaas' attention, motioning the play as he pounded his chest. Seljaas quickly penetrated opposite of Pollard's screen and threaded a bounce pass to Merrill after the defense converged, which ultimately led to a three-point play.
The patience settled the anxiety and ignited an 11-2 run (Merrill accounting for seven) before Provo's Wesley Bosco rimmed a 3-pointer to delay the flooding.
"That's Sam Merrill," Maxwell said of his guard's ability to dictate the game. "He'll do whatever it takes to win the game. He finds a way to make things happen. It's defense, it's offense, it's assisting — it's whatever it is."
Late in the second quarter Merrill feathered another 3 for his 14th point of the half to give the Braves a 27-15 advantage before Bleak added consecutive layups to push the margin to 14.
"We all had to take a deep breath," Merrill said. "I was able to get to the rim a few times and Jordan and Trevor played great defense; they got a couple of steals that really helped us out."
The Braves opened the third quarter on a 10-0 run, highlighted by six points from Pollard, to open a 41-18 cushion.
"The pick-and-roll really opened up for us," said Pollard, who also corralled 14 rebounds and blocked four shots. "I'd set that pick and my guy would leave to help on the ballcarrier and the guards were good at dumping it down and finding me in the open lane."
"We were smart enough to find him," added Maxwell. "If you get him the ball he's going to do something good down there."
Bountiful will face the winner of Mountain View and Logan on Wednesday at the Huntsman Center in the quarterfinals at 2:30 p.m.
Twitter: @phibbs_