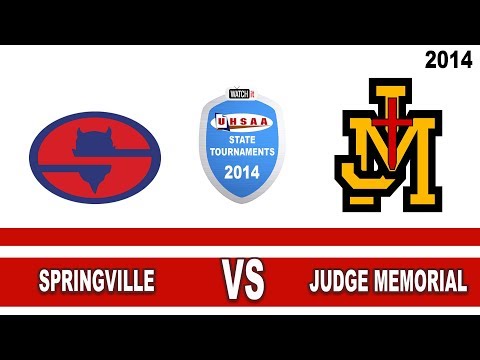 View 15 Items
Buy photos

SALT LAKE CITY — Springville had watched its double-digit lead dissipate throughout the fourth quarter against Judge Memorial in the first round of the 4A boys basketball tournament Monday afternoon.
Behind the valiant efforts of Ryan Pauley and Kaden Elliss, the Bulldogs rallied, and with 22 seconds remaining in regulation they were in possession, trailing by two, with an opportunity to either tie or win.
"We talked about don't foul," Red Devils coach Chris Kitchen said at the Huntsman Center. "If they get a bucket, letting them shoot a free throw to win is a sin."
Springville frantically switched assignments between screens and successfully blocked all alleys. Eventually, as time dwindled toward the buzzer, Elliss forced up a difficult attempt on the block that fell short as time expired to preserve the Devils' 61-59 win.
"When you get to the state tournament it's just about: Survive and advance," Kitchen said. "We were up 11 or 12 points at some point in time and we made some dumb mistakes, but we kept our composure. ... We were fortunate to get out of that one."
"They had this little pick-and-pop thing that they were getting free, so we were trying to take that away," Springville forward Max Schreiner added. "We were switching everything. They were a good team, so I give them props. They gave us a run for our money and it was good to hear the buzzer go off."
Springville enjoyed its typical balanced offensive production. Max Terry finished with 17 points, 15 of which were of the free-throw line. Schreiner scored 16 points. Rhett Clark tallied a double-double of 11 points and 11 rebounds. And Ben Johnson scored eight points with nine boards, which garnered Kitchen's praise.
"Ben Johnson was huge on the offensive boards for us, (and it's) what he's been doing his whole career," Kitchen said. "He had one rebound in the first half and he ended up with nine. He was very big for us."
Pauley led all scorers with 25 points, including nine points from distance, while Elliss added 16 points and seven rebounds. As expected in a two-three matchup, the two teams were evenly matched. Both shot 40 percent from the field and each had 32 total rebounds.
"We knew that Judge was a very good team," Kitchen said. "They're physical and it was a physical game both ways. I think it came down to a couple extra rebounds in the second half for us and the free-throw shooting."
Both teams appeared subdued in the first quarter, which fittingly ended in a 12-12 tie. It wasn't until late in the second that Springville began to establish a cushion.
With a 25-22 lead, Kayden Hillstead created an additional scoring opportunity with an effort play to save possession as the ball was sailing out of bounds. The hustle ultimately allowed Hillstead to connect on two freebies with 4.4 seconds in the first half to balloon Springville's lead to 27-22 at the break.
The Devils then opened the third quarter on a 5-0 run fueled by Hillstead's uncontested 3-pointer at the top of the key before Clark personally accounted for four more points moments later for a 36-27 lead at the 6:13 juncture.
Elliss slowly began to trim the deficit as the third quarter progressed, including hitting a late 3 to pull within three, 45-42. However, until the final moments, that was as close as the Bulldogs could manage as Springville continued to connect at the line.
With the win, Springville earned a date with Roy in the quarterfinals at the Huntsman Center on Wednesday. The Royals won the previous matchup between the two programs this season, 54-49.
"I think we know each other pretty well," Kitchen said of Roy. "I got to get back and watch film. They're a big, physical team, but I like our matchups against them."
Twitter: @phibbs_