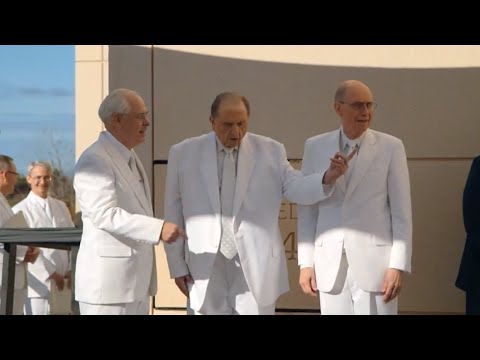 View 5 Items

GILBERT, Ariz. — The Mormon Newsroom released a five-minute video Monday highlighting the events associated with the Gilbert Arizona Temple dedication this past weekend. From young children seeing Thomas S. Monson, president of The Church of Jesus Christ of Latter-day Saints, to an unexpected answer to prayers, the Gilbert Arizona Temple dedication and cultural celebration were inspirational for many who attended.
"We got to see the prophet. It was fun," said a young girl in the video after her mother explained that she felt inspired to wake up early and take her daughters to the temple on the day of the dedication.
LDS youths rehearsed for months to share their talents in a cultural celebration with hundreds of other members, as well as President Monson and President Henry B. Eyring, first counselor in the church's First Presidency.
As the Saturday evening performance approached, so did the rain clouds — a rare occurrence in Gilbert. But what could have been a setback was viewed as a blessing.
"In Arizona, we love rain any time we can get it," one Arizona member said in the video. "And so if the Lord blesses us with rain, we will sing and dance joyfully in the rain."
And that's what they did while President Eyring smiled and laughed with the youths.
Comment on this story
"You will never forget this night," he said at the evening celebration.
Rain storms eventually passed as many gathered outside of the temple for the cornerstone ceremony Sunday morning.
"It's wonderful. It's God-sent," a Catholic man said in the video about the newly dedicated temple. "I'm not a member, but I am a person who believes in the Lord. I'm a Catholic, and in Rome we have our places where we go, basilicas. So I think for the LDS members this is sacred ground."
The cultural celebration was open to the public and broadcasted live on ABC15.
Email: spetersen@deseretnews.com