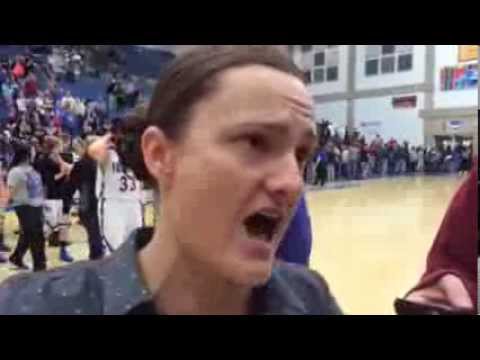 View 6 Items

I've never had a team that really, truly loves one another and really appreciates each other the way this one has. It's been incredibly gratifying to be a part of because they really do love each other and they play extremely hard for one another. I think that has contributed deeply to our success this year.

—Fremont coach Lisa Dalebout
TAYLORSVILLE — All season long, coach Lisa Dalebout has talked about the unconditional love shared by her players.
It was displayed when the Fremont girls basketball team surprised Dalebout with a flash mob during the middle of the season.
It showed again when the team rallied around junior guard Shelbee Molen as she struggled to do what she does best — score points — early on in the 5A state tournament.
And that love was perfectly clear when the Silver Wolves came together to play their best game of the season on the biggest day of the season, defeating American Fork 60-27 in the 5A title game at Salt Lake Community College on Saturday afternoon.
"I've never had a team that really, truly loves one another and really appreciates each other the way this one has," Dalebout said. "It's been incredibly gratifying to be a part of because they really do love each other and they play extremely hard for one another. I think that has contributed deeply to our success this year."
Last February, the Silver Wolves were eliminated from the state tournament in the semifinal round after taking the eventual champions to overtime. This time around, experience was on Fremont's side as it won its four tournament contests by an average margin of 18 points. Saturday, the Silver Wolves again jumped out to an early lead and never looked back.
"I think the incredible senior leadership was a big deal," Dalebout said. "Honestly, they played so well together, it's almost like they knew where everybody was going to be on the floor the whole time."
In spite of an ever-growing lead, which included a commanding 9-0 run to close the first quarter and a 15-1 run to open the second half, Dalebout always had the potential for an American Fork comeback in the back of her mind.
"Corey (Clayton) is an amazing coach. I never felt comfortable. At all. Ever," she said. "Especially with the type of players and 3-pointer shooters they have. We wanted to always press and do a good job."
Fremont had huge performances from guard Harley Hansen, a sophomore who averaged seven points per game all year but boosted that number to nearly 11 points per game during tournament week. In the title game, she recorded a team-high 14 points along with five rebounds, two assists and two steals. She also drew time defending American Fork star guard Jenna Shepherd.
"She does this every year. She just steps up," Dalebout said. "She just plays within the moment and doesn't feel pressure. She's amazing like that. She really just plays so free and aggressive the whole game."
Hansen and a myriad defenders shared the assignment of surrounding Shepherd, a sophomore who powered the very young, fourth-seeded Cavemen on an unexpected tournament run. The Silver Wolves effectively ended that run by keeping Shepherd scoreless in the opening half and holding her to just three total points.
"We were battling the whole game," Hansen said. "She's a really good player and I had to keep my butt down and play good D."
As a team, Fremont limited the Cavemen to just 14 percent shooting from the floor as they hit just 6 of 43 shot attempts and finished 1 of 14 from beyond the 3-point line. The Silver Wolves forced 11 turnovers, scored 13 points off those miscues, and outrebounded American Fork 46-21.
"Defensively, I'm amazed at what (my players) did against some really good ballplayers that I was very concerned about," Dalebout said, referencing Shepherd as well as freshmen Paige Farnsworth and Taylor Moeaki and junior Maile Richardson.
"I think we did a really good job at getting to the basket and getting some open looks early on," the coach said. "We did a really good job at getting inside the paint and then we hit some outside shots today that helped us out. It felt like it was raining today."
Fremont shot 47.8 percent from the floor and was 7 of 16 from 3-point range. Molen had three of them, while seniors Sydnee Ward and McKenzie Burrows hit three and one, respectively.
Ward finished with 13 points on 5-of-7 shooting while Molen had 11 points with five rebounds and three assists. Senior Burrows had seven points and four assists; sophomore Melanie Graves had four points; senior Kaelani Sagapolu had a game-high 10 rebounds; and senior Amanda Wayment had nine points and nine boards.
"It feels unreal, like I'm in a dream. It's just awesome how well we played together today," Wayment said. "They're not just a group of girls to me. They're like my sisters. I love each and every one of them so much."
The championship is the first ever for the Fremont girls basketball program, which has been in existence for 20 years. That is a detail not overlooked by Dalebout and her team.
Comment on this story
"We've had some amazing teams in our program," the coach said. "We said all year, the girls that have come before us and the girls coming after deserve somebody to set a precedence of greatness and really finish it — and they did it."
And then, after accepting the gold trophy, cutting down the nets, and taking once-in-a-lifetime photos, with the sound of the start of a familiar song, the Silver Wolves spontaneously broke into their flash mob, all together one more time.
Deseret News 5A All-Tournament Team
MVP: Shelbee Molen, Fremont, Jr.
Harley Hansen, Fremont, So.
Amanda Wayment, Fremont, Sr.
Jenna Shepherd, American Fork, So.
Mariah Martin, Alta, Fr.
Madison Chin, Brighton, Sr.
Sarah Thomas earned a degree in Mathematics from the University of Utah and is currently pursuing an MBA at Westminster College. She has been covering sports for the Deseret News since 2008.