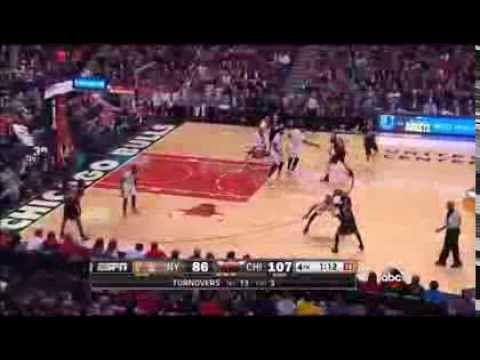 View 2 Items

I see how this team plays and they play hard every single night and for each other. They play the right way and that's something I was looking for, to come into a team where I could fit in and play the way I wanted to and play hard every night and be part of a team.

—New Chicago Bull Jimmer Fredette
Jimmer Fredette's new home is the Windy City, and he was well-received in his debut.
The Chicago Bulls announced Sunday morning that the former BYU basketball star signed with the team for the remainder of the season. Fredette played his first minutes as a Bull in the team's 109-90 victory over New York later in the day, scoring two points and grabbing two rebounds in just over three minutes of playing time.
He wore a number familiar to Cougar fans, No. 32.
When Fredette played for the first time, ESPN Chicago writer Nick Friedell tweeted out:
Jimmer comes into the game. The crowd is going nuts.

— Nick Friedell (@NickFriedell) March 2, 2014
Then a short time later:
Jimmer knocks down his first shot. Crowd goes nuts again.

— Nick Friedell (@NickFriedell) March 2, 2014
"I see how this team plays and they play hard every single night and for each other," Fredette told the Chicago Tribune prior to the game. "They play the right way and that's something I was looking for, to come into a team where I could fit in and play the way I wanted to and play hard every night and be part of a team. I'm excited to be here. I can't wait to start."
While the team did not disclose terms of the contract, Bulls.com writer Sam Smith said the deal would be a prorated minimum contract. Fredette was bought out by his previous team, the Sacramento Kings, on Thursday.
"We are very excited to add a player like Jimmer to our roster," Bulls General Manager Gar Forman said in a team statement announcing his signing. "We've followed him closely throughout his collegiate and professional career, and believe he'll be the type of player that will fit in with our group and be an asset to the team."
Fredette joins a guard lineup that includes D.J. Augustin, Kirk Hinrich, Tony Snell and Jimmy Butler. Derrick Rose is out for the season.
While Fredette is known for his defensive deficiencies, he will bring an outside shooting touch to a team that is in need. Heading into Sunday's game, the Bulls ranked 26th in the league in 3-point shooting at 34.4 percent; Fredette is shooting 49.3 this season from beyond the arc.
"We could always use shooting, so we'll see," Bulls coach Tom Thibodeau told ESPN Chicago. "I know they're looking at a number of guys right now. But any time we could add shooting, we're interested. I think the more shooting you have, the more it opens up the floor."
Fredette will have a chance to face his former team, the Kings, when Sacramento visits Chicago on March 15. He will also have the opportunity to take on former BYU teammate Brandon Davies twice this month when the Bulls play the Philadelphia 76ers on March 19 and 22. Davies is currently out with a finger injury.
Email: [email protected]; Twitter: @brandonljudd