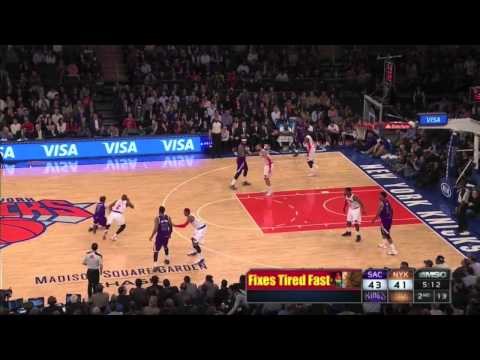 View 2 Items

We've heard that four or five teams are interested, including the Knicks, but to what degree, I'm not sure. It would be good for Jimmer (to land with another team), and get more minutes. Agents take care of those things, so I guess we'll find out.

—Al Fredette
Jimmer Fredette's parents wouldn't mind trading in a cross-country trip for a three-and-half hour one to see their son play in the NBA.
With news surfacing that Fredette and his current team, the Sacramento Kings, are working on a buyout of his contract, the New York Daily News asked Fredette's father his thoughts on the former BYU basketball star possibly signing with the New York Knicks. The Knicks' home court, Madison Square Garden, is about a 200-mile drive from Fredette's hometown of Glens Falls, N.Y.
"Well, it's a lot closer than Sacramento," Al Fredette told the Daily News, laughing. "I just went out to see him with my other son, and the weather delayed us going out, and then we drove up (to Sacramento) and the weather was a factor for that, so we lost a lot of time overall.
"It would be great. Every competitive athlete, all they want is a chance to play more, have more minutes, so that's what we're hoping for, and what Jimmer is hoping for."
Fredette is averaging 5.9 points per game this season while playing just 11.3 minutes per game. Despite shooting 49.3 percent from 3-point range this season, his scoring average has gone down each of his three years in the NBA.
Fredette's best game as a King came on Feb. 12, when he scored 24 points and hit 6-of-8 3-pointers while helping Sacramento top New York 106-101 at Madison Square Garden.
"We've heard that four or five teams are interested, including the Knicks, but to what degree, I'm not sure," Al Fredette said. "It would be good for Jimmer (to land with another team), and get more minutes. Agents take care of those things, so I guess we'll find out."
Jimmer Fredette didn't play in the Kings' 129-103 loss to the Houston Rockets on Tuesday, which coincidentally was his 25th birthday.
"I guess wishes do come true on your birthday when you blow out the candles," Kings forward Jason Thompson told the Sacramento Bee. "He was always one of the first guys in the gym getting shots up regardless of his situation. He was the ultimate pro, and I wish him nothing but the best."
Fredette's third coach in three seasons with the Kings, Michael Malone, told the guard he wouldn't play much the rest of the season, and the buyout is a way for Fredette to move on, according to the Bee.
"Very good playoff teams, I think he'd make a lot of sense for," Malone said. "If you need a guy who can space the floor and give some of these superstars room to operate, you put Jimmer on the floor. He's going to keep the defense honest because he can shoot the ball, and everybody knows that."
Email: [email protected]; Twitter: @brandonljudd