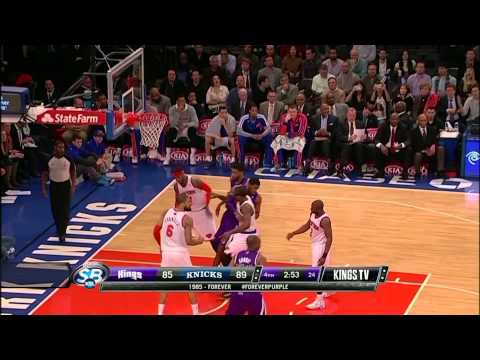 View 3 Items

Jimmer Fredette's time in Sacramento may be coming to an end. According to Adrian Wojnaroski of Yahoo Sports, Fredette and the Kings are reportedly close to a buyout agreement.
Fredette's contract only went to the end of this season after the Kings declined his fourth-year option. His is worth $2,439,840 for the 2013-14 season.
Fredette had his best game as a King against New York on Feb. 12 as he shot 9-of-14 from the field and 6-of-8 from behind the arc to finish with 27 points, two assists and two steals. It appears that Sacramento was trying to showcase his talents just before the trade deadline. Since then, Fredette has played only four minutes over the past three games.
It looks like Sacramento couldn't get what it was looking for on the trade market for Fredette.
That doesn't mean that teams wouldn't be interested in signing Fredette should the Kings buy out his contract. While critics will point to Fredette's less-than-spectacular defense, there's no question he can shoot the ball. This season he's shooting 94-of-198 (47.5 percent) from the field, and he's made an incredible 36-of-73 (49.3 percent from behind the 3-point line. He probably wouldn't be a starter anywhere in the league right now, but he could be a valuable sixth man who can hit a few key shots at a critical stretch.
Rumors abound about where he could end up should the Kings release him. Many have taken to Twitter en masse to speculate which team could pick up Jimmer, from the Cavaliers to the Knicks and even the Heat. While some in Utah would love to see the Jazz go after Fredette, it's unlikely that Utah will sign Fredette.
Stay tuned, folks. Jimmermania is about to hit once again as we wait to see what becomes of the former BYU star.
Lafe Peavler is a Web sports writer for the Deseret News. Follow him on Twitter @LafePeavler