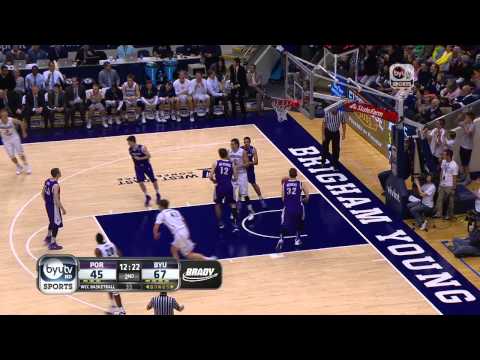 View 23 Items

Behind remarkable shooting performances from Anson Winder and Matt Carlino, BYU ran away from the undermanned Portland Pilots 89-72 on Saturday night in Provo. Carlino tied a career-high with 30 points coming off the bench while Winder chipped in 19 points in his second straight game as a starter. The Cougars also got a solid effort from Tyler Haws, who finished with 15 points in the win.
Without the services of leading assist man Alec Wintering and leading scorer Kevin Bailey, Portland had a difficult time with the Cougars' pace. Ryan Nicholas led the way with 17 points, while Bobby Sharp registered 16 points on the strength of 4-of-9 3-pointers for the 15-13 Pilots.
The starting backcourt
Winder was big on both ends of the floor again for BYU. He made 7-of-8 shots from the field and all four of his free-throw attempts to finish with 19 points. On the defensive end, he made 3-point marksman Bobby Sharp work hard for every shot he got. Tyler Haws made just 5-of-12 shots from the floor, but hit all of his free throws. He also handed out five assists. Kyle Collinsworth finished with seven points on eight field goal attempts, but led the Cougars in rebounding (11) and assists (seven) on the night.
Grade: A-
The starting frontcourt
Luke Worthington and Nate Austin got the call to start the game as Erik Mika came off the bench for the second consecutive contest. Worthington played limited minutes because of early foul trouble, but played well in his time on the floor. He finished with five points to go along with an assist and a steal. Austin didn't take a shot from the field and finished with one point, but played solid defense and finished second on the team with seven boards.
Grade: B+
The bench
The bench came up with 42 points thanks to a huge night from Carlino, who hit 8-of-13 shots from 3-point range. He also led BYU with four steals. Eric Mika came off the bench again and had a decent night. He ended up with eight points and three rebounds in 20 minutes of action. The Cougars also got nice contributions from Josh Sharp, Frank Bartley IV and Skyler Halford. They combined to tally four points, three rebounds, five assists, a steal and a block.
Grade: A
Coaching
3
comments on this story
Coach Dave Rose switched up his starting lineup again, and it worked to perfection. Winder and Mika have been ideal fits in their new roles, and Worthington played with more confidence as a starter while providing a big body to help keep the Pilots' big men off the offense glass. BYU kept the Portland offense off-balance all night long thanks to the changing defenses that Rose threw at them, which helped the Cougars win for the seventh time in their last eight games.
Grade: A
Overall
The Cougars had no letdown from their big win over Gonzaga and handled their business from the get-go. They are still missing far too many free throws, but played an otherwise fantastic game. If BYU can continue to get this kind of production out of Winder, they will be hard to stop.
Grade: A-
Jay Yeomans is a courier by day and a freelance writer by night. He is the creator and lead writer of the website jmoneysports.com. Contact him at jmoney34@hotmail.com. Twitter: @jmoneysports