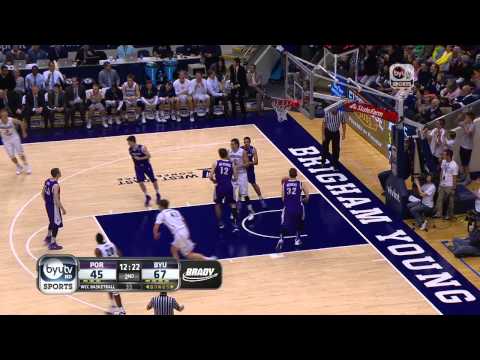 View 23 Items

PROVO — During his 3-point onslaught Saturday night against Portland, Matt Carlino didn't realize he was closing in on former Cougar consensus All-America Jimmer Fredette's single-game BYU record.
Carlino finished with a career-high eight 3s, and late in the Cougars' 89-72 whipping of the Pilots at the Marriott Center, he had a chance to tie Fredette's record of nine.
But the shot didn't go down.
"I would have made it if I would have known," Carlino joked.
Carlino hit 8 of 13 attempts from 3-point territory against Portland.
Fredette's record of nine 3s (9 of 13) came at Arizona in 2009.
Still, Carlino is in good company.
Only one other Cougar has made eight 3-pointers in a single game — that was Mike Rose, who did it twice, in 2003 and 2007. Fredette made seven in a game three times, while Nick Sanderson (1992) and Danny Bower (1997) also connected on seven 3s in a game.
How big did the basket look to Carlino Saturday night?
"It was pretty big," Carlino said. "It was fun."
In the first half, Carlino drilled three consecutive 3-pointers that propelled the Cougars to a 33-16 lead. Then, with less than 30 seconds remaining in the half, he buried another.
"Matt understands that when he feels good about his shot, and he's open, he's free to shoot that shot," said coach Dave Rose.