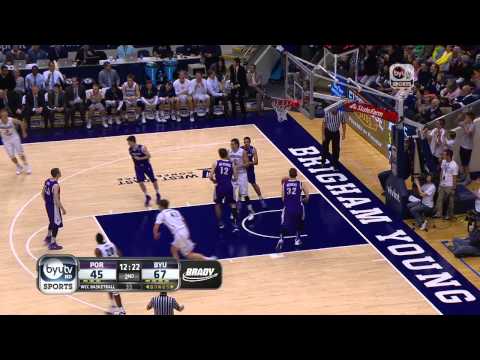 View 23 Items

PROVO — The most important takeaway from BYU's final home game, an 89-72 win over Portland on Saturday night?
It wasn't Kyle Collinsworth outrebounding Portland 6-2 in the first five minutes of the game. He finished with 11 boards.
It wasn't watching to see if Tyler Haws come close to getting 48 points like he did against the Pilots in Portland a month ago. He didn't get a third of that.
It wasn't even seeing Matt Carlino bury three straight 3-pointers in the first half, taking over the game and finishing 8 of 13 from distance (a very big deal for a team lacking that kind of bomb power). He scored 30.
It wasn't watching Anson Winder, in his second-straight start, pick right up where he left off Thursday against Gonzaga. He had 19.
No, the thing that lingered is that the Cougars came with an edge, an attitude. It wasn't necessary nasty, but it was aggressive and confident. And as coach Dave Rose put it, his team has found ways for individuals to rise up personally, no matter what "mesh" of players he puts on the court or what role has been thrown at each person.
The fact that Haws can score 10 points off his average and Rose can shake up his starting lineup, and yet the Cougars witness big performances like the ones by Carlino and Winder is defining BYU's late season.
This has been the theme since the Cougars came back from 14 at St. Mary's and won.
"We're having fun. At this point in the season, it can get to be a grind, but we're having fun," said Carlino.
This is a young squad that's been obsessed with scoring, leading the league handily in producing points.
However, being soft defensively for much of the season has particularly robbed BYU from posting significant achievements.
Against Portland, Rose continued to mix up his lineup. He started freshman Luke Worthington to protect center Eric Mika from fouls. He brought Carlino and Skyler Halford off the bench while elevating Winder to the starting five. The Cougars showed an edge for most the game.
"Portland's frontcourt is very physical and they rebound hard," said Worthington. "Sometimes you have to punk them."
Lets remember, this was Portland, a squad missing two starters, and a team that came to Provo with a losing 7-8 record in the WCC.
Rose knows his next trip to San Diego is a huge challenge. San Diego has battled his squad hard the past three seasons.
With a win at San Diego next Saturday, the Cougars can finish off a nice WCC run with wins in seven of the last eight. That would give them a 12-3 record since opening league play 0-2 — part of an 0-4 skid — back in December.
But the next milestone for Rose's program is to start winning in the postseason, in particular, staying alive and advancing in the league tournament in Las Vegas at tne Orleans Arena.
The Cougar will go to the WCC tournament for the third time in March. With a possibility of six WCC tourney games in that time, BYU has just one win and has only played three games, never sniffing that automatic NCAA bid.
Maybe it's the town, the buffets, the approach, the attitude or the lack of fight that week, but nobody's seen BYU go to Vegas with teeth since Jimmer Fredette dropped a million on New Mexico and the Cougars lost to San Diego State in the Mountain West final in 2011.
Aside from that Jimmer show, the Cougars haven't been relevant in MWC or WCC tournaments since 2001 when coach Steve Cleveland, with assistant Dave Rose at his side, took Mekeli Wesley and Trent Whiting and Co. and won the title.
That's 13 years of throwing snake eyes in that town. And that is weak.
Saturday's takedown of Portland was a nice home finale, even without seniors toting off blankets.
This Cougar squad has a lot to prove heading into March, even with wins over St. Mary's (twice) and No. 25 Gonzaga last Thursday.
And it begins on the road in San Diego in a week.
Dick Harmon, Deseret News sports columnist, can be found on Twitter as Harmonwrites and can be contacted at [email protected].