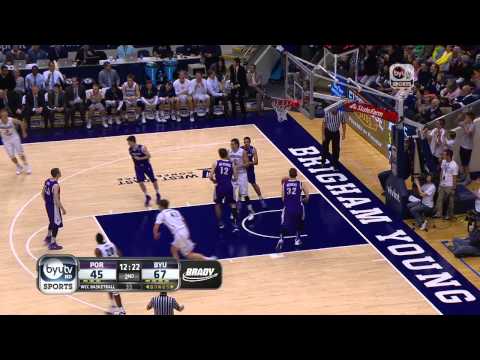 View 23 Items

PROVO — When Matt Carlino left the court and took a seat on the bench with a couple of minutes remaining in Saturday's 89-72 victory over Portland, the Marriott Center crowd rose to its feet and cheered the Cougar guard, who wore a jack-o-lantern smile.
It was a well-deserved smile, and a well-deserved standing ovation.
Carlino tied a career-high 30 points and knocked down eight 3-pointers — one shy of a single-game school record — in 27 minutes of play after coming off the bench.
"I'm so happy for Matt and his confidence and the way that he's flourished in this role (as a non-starter)," said coach Dave Rose. "It's a difficult thing, I know, for him. He gives us such a lift. He's been really consistent and steady in that. And tonight, he had one of those special games where the basket looks really big."
Saturday marked the 15th straight game that Carlino has come off the bench.
On the night, Carlino hit 11-of-16 shots from the floor and 8-of-13 from behind the arc. He also added four steals, three rebounds and one assist.
More than anything, Carlino was loving every minute of it.
"I think you guys know that I pride myself on having more fun than anyone on the floor," he said. "Every time I go out there, I have fun. It's all fun. Every time you get to play, it's a blessing."
Perhaps some sort of cosmic counter-balancing was at work. Portland's Bobby Sharp made 8-of-13 3-pointers last month in a 114-110 triple-overtime win over BYU.
The Cougars avenged that painful defeat and pulled away from the Pilots thanks in part to Carlino's heroics.
Carlino drilled three consecutive 3-pointers during a two-minute stretch in the first half that saw BYU's lead balloon from eight to 17. At that point, the Cougars led, 33-16, with a little less than seven minutes left in the half.
"He kind of carried us there for a while when it was tough around the basket," Rose said. "We needed somebody to step up and hit some perimeter shots because (Portland's) size and physical presence around the rim makes it tough to score at the rim."
Speaking of the rim, Carlino recorded his first dunk of the season — and second of his career — in the second half.
"It felt good," Carlino said of his slam. "I wanted that."
Not too long ago, Rose expressed concern that maybe his team was relying too heavily on star guard Tyler Haws for scoring production. Haws, who scored a career-high 48 at Portland in January, finished with a quiet 15 points Saturday.
If recent performances are any indication, maybe Rose doesn't need to worry anymore.
Not only did Carlino shine for the Cougars, but so did Anson Winder, who made his second straight start. Winder scored 19 points on 7-of-8 shooting from the field and played solid defense as well. Winder had 17 in last Thursday's big win over Gonzaga.
"Anson brings it every day," Carlino said. "Now he's showing it on the floor."
"He's playing really well," Rose said of Winder. "That's the most important thing — to get guys playing their very best at this time of year. Anson has really responded well. The last two games, he's been terrific. Hopefully we can keep that going."
Of having scoring options besides Haws, Carlino said, "I think it's great for us. Tyler's such a threat and he commands so much attention. It's good that guys are stepping up. It's hard to guard five guys."
With the win, BYU improved to 20-10 overall and 12-5 in the West Coast Conference. Portland dropped to 15-13 and 7-9.
The Cougars led by as many as 25 in the second half. For the game, BYU shot 56 percent while limiting the Pilots to 39 percent.
29
comments on this story
Portland played without two injured starters — Alec Wintering and leading scorer Kevin Bailey. The Pilots made 9-of-21 3-pointers. Sharp had four 3s and scored 16 points, and Ryan Nicholas poured in a team-high 17 points.
BYU visits San Diego next Saturday (2 p.m. MST, TWC).
NOTES: Announced attendance was 17,842. … Kyle Collinsworth finished with seven points, 11 rebounds and seven assists. … Freshman Luke Worthington started for the first time in his career Saturday and recorded his first career dunk. … Winder has made 16 consecutive free throws over his last three games.