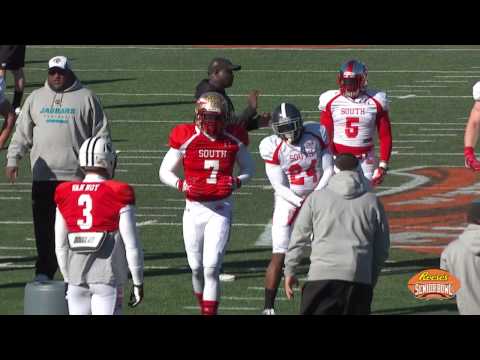 View 2 Items

Many analysts see him as a second-round talent but he wouldn't be the first guy to jump up into the first round after a solid Senior Bowl week. He is a versatile football player with coverage and rush skills.

—CBSSports NFL Insider Pat Kirwan, on Kyle Van Noy
For BYU football fans, the thought that Kyle Van Noy is overlooked may seem preposterous.
Not the guy who consistently harassed opposing quarterbacks and forced sacks and turnovers — many that led directly to touchdowns — throughout his career in Provo. Certainly not the guy who single-handedly lifted the Cougars to victory against San Diego State in the 2012 Poinsettia Bowl.
Yet, in the realm of NFL draft prospects, the former BYU linebacker is flying a bit under the radar. With pass-rushing talents like South Carolina's Jadeveon Clowney, UCLA's Anthony Barr and Buffalo's Khalil Mack taking the majority of the headlines, it's not hard to see why NFL scouts and personnel may need to do a little more homework to see just where Van Noy stacks up in this year's draft class.
Still, with a strong performance at the NFL Scouting Combine — Van Noy will hit the field for workouts on Monday — it's not unbelievable that he could find himself being selected on Day 1 of the NFL draft, which takes place May 8-10.
"I don't hear too much about this guy except from the people that studied him at the Senior Bowl," CBSSports NFL Insider Pat Kirwan wrote about Van Noy in his latest mock draft. "Many analysts see him as a second-round talent but he wouldn't be the first guy to jump up into the first round after a solid Senior Bowl week. He is a versatile football player with coverage and rush skills."
In his mock draft, Kirwan shows great faith in the linebacker's pro potential, as he has Van Noy going 25th to the Chargers.
Van Noy has already impressed at the Senior Bowl in late January. NFL analyst Phil Savage, a former general manager for the Cleveland Browns, ranked Van Noy as the top outside linebacker during the Senior Bowl game and practices.
"Kyle was the most complete outside linebacker on the North and South rosters because of his combination of athleticism in space, his ability to stack the run at the point-of-attack and his overall pass rushing skills. He can play on or off the line of scrimmage and appeared equally secure in defending the run or pass," Savage said.
"In reality, he is versatile enough to fit the 3-4 or 4-3 systems and play in Sub as a rusher or coverage defender. Kyle should become a starter early on and enjoy a productive NFL career."
Savage also predicts Van Noy will be a starter in the NFL within two years.
During the Senior Bowl, the former Cougar constantly switched from lining up as an outside linebacker to joining the line at the defensive end position. He finished the game with two tackles and a 7-yard sack. That type of versatility ought to pay dividends in making him more attractive to potential future employers.
The majority of mock NFL Drafts don't have Van Noy being taken in the first round — chalk a lot of that up to his senior-year stats that didn't match up to what he did as a junior. Yet there are some teams — like the Saints, Chargers or Bengals — at the bottom of the first round that could use a strong pass-rushing talent at outside linebacker. All it takes is one team to fall in love with what Van Noy could do.
Just ask Ezekiel "Ziggy" Ansah, the former Cougar who was drafted fifth overall last year by the Lions after the Detroit coaching staff worked with Ansah during the Senior Bowl week.
A plus to being taken late in the first round as compared to in the early stages of the second is Van Noy could land with an established winner, like the Saints or Broncos. The risk of falling into the early portion of the second round — where team names like the Texans, Jaguars, Raiders, Browns and Bills dot the board — is Van Noy may never have a realistic chance at a title with the team he's drafted by.
That fact alone ought to motivate Van Noy to work even harder to have his name heard on the draft's first day.
Sports Illustrated's Doug Farrar has Van Noy being selected by Super Bowl runner-up Denver in his latest mock draft.
"Van Noy has been a standout for a long time not because of his speed, but because of his sound technique and understanding of the requirements of his position," Farrar wrote, adding that Van Noy could help bring pressure on a Broncos defense that struggled doing so last year.
Yet, there is an intriguing scenario where falling into the second round could be interesting for the former BYU 'backer. If he drops to 45th, the Lions could select Van Noy and have him join former teammate Ansah in providing Detroit with another piece to its pass-rush puzzle.
"With the Lions, I think I'd fit right in," Van Noy told mlive.com in late January about potentially reuniting with his former roommate. "I feel like they have a great pass rush, and I have the versatility to play behind them and be disruptive."
One thing is certain: Van Noy will have the opportunity to play himself out of the shadows of other pass rushers on Monday, and it may lead to bigger dividends down the road.
Email: [email protected]; Twitter: @brandonljudd