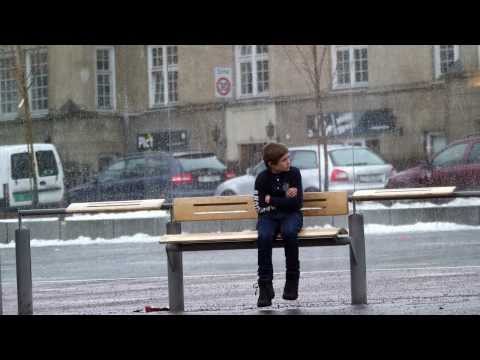 View 2 Items

On a cold, snowy day, are people willing to give up their winter essentials for someone else? A recent, viral video proves that strangers still sacrifice their comfort for others.
The video, shot using a hidden camera, shows a boy actor named Johannes sitting at a bus stop in Oslo, Norway. As strangers come up, they ask him questions: Is he's cold? Why is he at the bus stop? Where is his jacket?
All the people in the video eventually give Johannes something to keep him a bit warmer such as their gloves, a scarf or even the jacket off their backs.
The video, posted Feb. 19, has over 3 million views.
"This shows how people should be! It's just touching how nice are some people!" Krista Andreiko wrote in the YouTube comments.
A lovely video coming out of Norway; would you give your jacket to Johannes? #OnionsInTheOfficeAgain http://t.co/qcxl2Dpd4H

— Estban de la Brown (@stevebrown87) February 19, 2014
Love that this feel good Norwegian charity video is going viral. Good job SOS Children's Villages International! http://t.co/27ik27scp5

— Katrine Hattrem (@KHattrem) February 20, 2014
According to the description, the video was made to raise funds for SOS Children's Villages. The funds will be used for its winter campaign to give jackets to children in Syria.
To view the video with captions, click the "CC" button in the bottom right corner of this video player on YouTube.
Alison Moore is a writer for the Faith and Family sections at DeseretNews.com. She is studying journalism and editing at Brigham Young University. EMAIL: amoore@deseretdigital.com