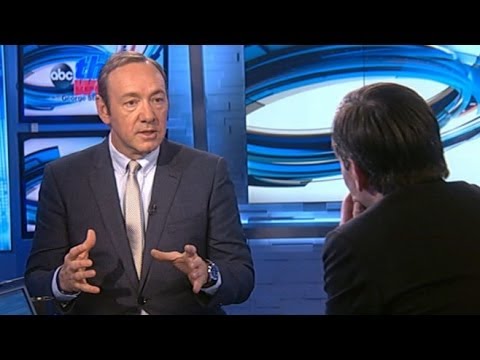 Kevin Spacey sat down with George Stephanopoulos this past Sunday on ABC's "This Week" to discuss his hit TV show "House of Cards."
For the role, Spacey shadowed House Majority Whip Kevin McCarthy, R-Calif., and as such Stephanopoulos asked, "Is Washington more exciting than Hollywood?"
"For me it's like performance art," Spacey replied. "I sometimes watch it. … Get done shooting on a day and I'll come home and turn on the news and I'll think, you know, our storylines are not that crazy. They're really not."
While the main goal of the segment was to discuss the popular series, Spacey also displayed some interesting insights about the craft of political power in D.C.
"Lyndon Johnson is a character that my character in 'House of Cards' admires," Spacey said. "You know, during his lifetime, and certainly during his presidency he took an enormous amount of criticism, certainly for his policies in Vietnam. But we also have to look at the fact that he passed three civil rights bills in a very short presidency."
He ends the interview mentioning Abraham Lincoln as an extremely effective politician who was "willing to give positions to various people in order to get votes for something he thought was more important, and today that would probably be a scandal."