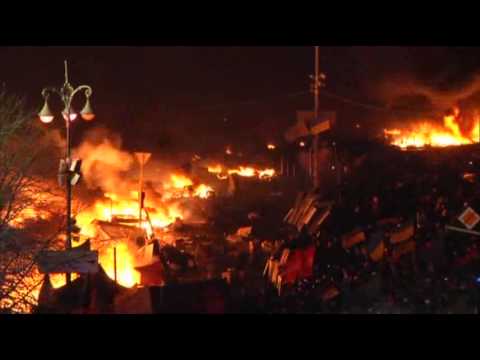 View 2 Items

Putin is tightening the screws, because this is what stability looks like and that, to Putin, by all accounts a man deeply traumatized by the chaotic, painful collapse of the Soviet Union, is worth any price. And the more unstable Ukraine gets, the tighter he'll turn them.

—New Republic's Julia Ioffe
According to The Week's Peter Weber, "Russia is winning the battle for Ukraine."
Weber is responding to the fact that in November of last year, Ukrainian President Viktor Yanukovych rejected a contract for closer integration with the European Union, signaling a looming alignment with Russia.
He writes that it is a clear case of Ukrainians fighting for "Western-style economic and political freedoms against the country's traditional imperial oppressor, Russia — now personified in Russian President Vladimir Putin."
Weber goes on to say that Putin is offering Yanukovych a sweeter deal than the EU because he knows that in order to maintain its geopolitical influence over the region it needs the former Soviet state in its camp.
As reported by the Washington Post's Max Fisher, violence erupted Tuesday in the capital city of Kiev, leaving 25 people dead and more than 241 injured. Fisher writes that, among other concerns, the protesters see Yanukovych as "bringing their country closer to Russia, and thus symbolically moving it away from Europe."
It is also worth noting that Russia has continued to release billions of dollars in aid to Yanukovych's administration during this period of turmoil while other European countries like Germany are meeting with Ukrainian opposition leaders.
On the eve of the Sochi Olympics, Russia accused the United States of meddling in the affairs of Ukraine, according to the New York Times.
The Feb. 6 article said the diplomatic conflict "underscored the increasingly Cold War-style contest for influence here as East and West vie for the favor of a nation of 45 million with historic ties to Moscow but a deep yearning to join the rest of Europe."
Contrary to Weber's assumptions, New Republic's Julia Ioffe thinks the events unfolding in Kiev over the last couple of days are "Vladimir Putin's worst nightmare."
Ioffe writes that if these types of powerful protests can happen in Kiev then they can certainly happen in Moscow, citing how similar the two societies are and that "Kiev is the cradle of Russian civilization."
"Last time Kiev had protests, Putin put the finishing touch on killing democracy in Russia," she writes. "Putin is tightening the screws, because this is what stability looks like and that, to Putin, by all accounts a man deeply traumatized by the chaotic, painful collapse of the Soviet Union, is worth any price. And the more unstable Ukraine gets, the tighter he'll turn them."
As well, the latest outbreak of violence has many calling for a negotiated resolution.
According to a Tuesday Washington Post editorial, a political settlement is possible because "it is the only solution to the crisis."
"Tuesday's bloody street battles show again that Ukraine will be ungovernable unless Mr. Yanukovych accepts reasonable opposition demands for political and economic reforms."
Erik Raymond is experienced in national and international politics. He relocated from the Middle East where he was working on his second novel. He produces content for DeseretNews.com. You can reach him at:
@RaymondErik