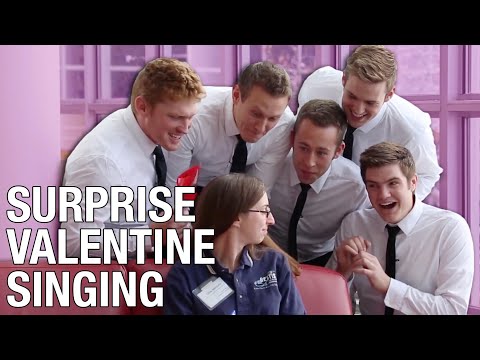 View 4 Items

Just in time for Valentine's Day, YouTube sensation Stuart Edge joined with Brigham Young University's a cappella group Vocal Point to spread a little love on the University of Utah campus.
Dressed in white shirts and dark ties, the group is filmed surprising girls from behind by bursting into songs, such as Nat King Cole's "L-O-V-E," Elvis Presley's "Can't Help Falling in Love" and Frankie Valli's "Can't Take My Eyes Off You."
Reactions ranged from excited, shocked and overwhelmed to embarrassed.
Many viewers expressed their appreciation for the video, even if Valentine's Day isn't their thing.
"Oh, this is very nice. You guys are awesome," viewer Kberken wrote on YouTube. "I wish somebody would do that for me! I'm 64 years old, and let's say it's been awhile since anybody sang to me like that. Those young women were really happy. Good work, guys!"
Teri Caiazzo commented: "I'm not a huge Valentine's Day fan, but this was really cute. Thanks for sharing it with us."
The video was just posted this week and already has more than 600,000 video views.
Email: [email protected]