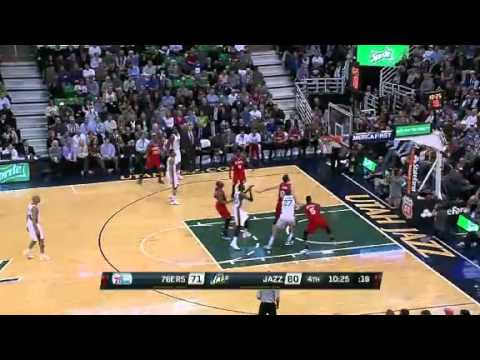 View 59 Items

As was the case Tuesday, the Utah Jazz encountered another team residing in the same tier of the NBA hierarchy — the Philadelphia 76ers. And once again, it was Utah that did what it needed to down the stretch to claim another win. The Jazz withstood a late Philadelphia run to earn a 105-100 victory.
Utah set the tone early with a 31-22 first quarter, and while the subsequent two quarters were relatively close, the Jazz were in good shape as they sported a 14-point advantage midway through the last quarter. The Sixers went on an energetic, impressive run, knotting things up at 91 after Michael Carter-Williams capitalized on a 3-point play. Enter Alec Burks.
The athletic combo guard singlehandedly took over the game, outscoring Philadelphia 10-0 during a one-minute and 38-second span. He made repeated aggressive forays to the basket, which resulted in either acrobatic layups or free throws. Burks had another stellar outing, going 6-of-10 from the field while connecting on 13-of-14 free throws. He tallied 26 points, four rebounds and three steals in just 23 minutes.
When the buzzer sounded, Utah had won its third straight game entering the extended break.
Bench encore: For the second straight evening, the Jazz bench dominated its counterparts. Utah took advantage of Philadelphia's lack of depth, winning the battle off the pine 56-10. The energy from the Jazz bench on both ends of the court was integral to the game's outcome.
It was the same cast of characters who did the damage. Beyond Burks' performance, Enes Kanter stepped in to cover for the injured Derrick Favors. The Turkish center met his season averages with 12 points and seven rebounds while providing solid defense. Jeremy Evans was hitting again from the perimeter, adding 10 points. Diante Garrett and Rudy Gobert also played some solid minutes.
Every bench performer had a positive +/- mark.
Odds and ends:
• While their bench struggled, the Sixers' starters all reached double figures and outscored Utah's opening five 90-49.
• Marvin Williams registered a double-double with 13 points and 14 rebounds.
• Utah's starting backcourt of Trey Burke and Gordon Hayward combined to shoot just 6-of-29 from the floor, including 1-of-8 from downtown.
• All five of Philadelphia guard James Anderson's baskets were 3-pointers. This included a trio of trifectas to end the game, all coming within 14 seconds.
• Former Brigham Young University big man Brandon Davies was out with an injured finger.
David Smith provides instant analysis for Deseret News' Utah Jazz coverage. He works for LDS Philanthropies and also writes for Salt City Hoops (ESPN's Jazz affiliate). He can be reached at mechakucha1@gmail.com or on Twitter at davidjsmith1232.