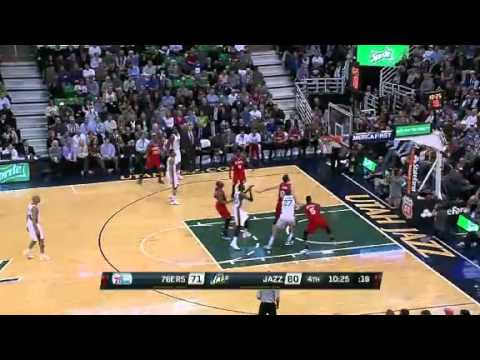 View 6 Items

SALT LAKE CITY — With the spotlight on the point guards Wednesday night, it was Trey Burke's team that earned the win.
While that's ultimately the most important thing — unless you're on Team Lottery — it's unlikely that the Utah Jazz player won any votes in the NBA's Rookie of the Year race.
Burke entered this game against the Philadelphia 76ers as an underdog to front-runner Michael Carter-Williams, and that certainly remains the case despite the Jazz's 105-100 win at EnergySolutions Arena.
Though he couldn't lead his team to a win — and hasn't been able to for a while — Carter-Williams dominated his first professional head-to-head matchup with the guy who's considered to be one of his biggest competitors for the first-year prize, along with the likes of Orlando's Victor Oladipo and the Knicks' Tim Hardaway Jr.
The Sixers' up-and-coming star finished with 19 points, eight assists, five rebounds, three blocks, two steals and a plus-19 plus/minus rating in 37 minutes.
Burke, who'll be Carter-Williams' teammate at the Rising Stars Challenge during All-Star weekend, didn't have one of his better games Wednesday. He scored only seven points on 3-of-12 shooting and totaled just two assists, two rebounds and a plus-2 plus/minus rating in 29 minutes.
"You can't take nothing away from him. He's a really good player," the 6-foot-1 Burke said of Carter-Williams. "He's a 6-6 point guard. I think that's the toughest thing guarding him. If he gets in the paint, he's 6-6. I've just got to continue to get better and learn from this game."
For a few months last year, Burke seemed to have an upper hand on the Rookie of the Year award he coveted. His Michigan team beat Carter-Williams' Syracuse squad in the Final Four last spring, Burke swept the NCAA awards, and then received offseason love for the award from multiple publications and experts after being drafted two spots before the lanky playmaker.
Their positions switched, however, early into their NBA careers.
While Burke, the No. 9 pick, was rehabbing from his broken finger, the No. 11 pick got off to a splendid start with the Sixers. Philly's playmaker flirted with a quadruple-double in his NBA debut, scoring 22 points with 12 assists, nine steals and seven rebounds as the 76ers opened the 2013-14 season with a shocking 114-110 win over Miami.
Though Carter-Williams' shooting hasn't been superb (just 39.5 percent), he's continued to put up solid all-around numbers: 17.1 points, 6.4 assists, 5.4 rebounds and 2.1 steals. Those are all tops for rookies, by the way.
Burke has had his own stellar moments since returning from his preseason finger surgery, including that sensational night in Orlando when he amassed 30 points, eight assists and seven rebounds. After missing the first 12 games of the season, the 2013 NCAA player of the year has averaged 12.6 points and 5.6 assists. His usually steady play at point guard has been a key factor in Utah going 18-20 with him in a starting role after a 1-14 start.
That's why Jazz coach Tyrone Corbin's response wasn't all that surprising when asked how he'd cast his vote for the rookie award, which was won by Weber State product Damian Lillard last season.
"I like our guy. But I can't vote on my guy anyway, that's not fair," Corbin said, smiling. "They're both having good years for rookies so we'll see where it ends up."
Though Corbin is partial to Burke, Utah's coach spoke highly of Carter-Williams.
"He's having a good year for a rookie. He's kind of creating a name for himself," Corbin said of Carter-Williams. "He's a big point guard. Defensively, he's getting some steals, getting in the lane. He's assisting the ball. He can rebound for a guard. He's learning a lot."
Carter-Williams was among the dozens of NBA hopefuls the organization worked out leading up to the draft, but Corbin lobbied for Burke that night when Jazz brass ended up swapping the 14th and 21st picks to Minnesota to acquire Burke to be the point guard of the future.
"Trey is a guy for us that's getting better every game. He's running the show for us," Corbin said. "Where he can score, we really want him to continue to develop his point guard skills right now and balance those things out."
Philly coach Brett Brown is impressed with Burke's confidence while shooting.
"You just look at somebody who is very comfortable shooting the ball. It makes the game easier," Brown said of Burke. "I think their (Jazz) history is well-documented. You just see him as being a legitimate, really good player for a while."
EMAIL: jody@desnews.com
TWITTER: DJJazzyJody