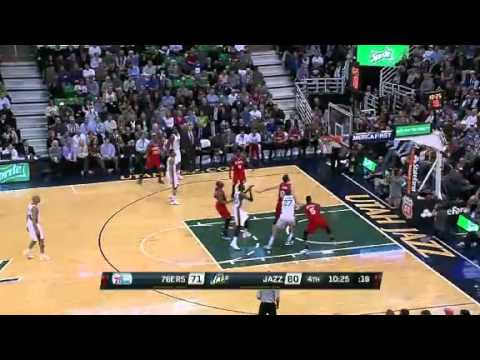 View 4 Items

SALT LAKE CITY — The NBA schedule-maker didn't have Brandon Davies in mind when he had Philadelphia play in Utah before the All-Star break.
But the former BYU and Provo High standout certainly appreciated how it worked out. The 76ers rookie will hang out in his old stomping grounds until Sunday.
"It's fun," Davies said. "It's nice to be home and see familiar faces and be with my family. … It just worked out perfectly that we're here."
Two things could have made this trip to Utah better for Davies:
1) He wishes the BYU men's basketball team had a home game.
"I was mad. … I was hoping they'd have a home (game) so I could make it," he said. "I'll have to catch a girls game or something."
2) Being unable to play because of an injury put a damper on his first regular-season visit as an NBA player to his home state. Davies, who went undrafted after his Cougar career but was signed by Philly after a preseason stint with the Clippers, has missed the 76ers' last 14 games after breaking his right pinkie finger a month ago.
"It's not fun sitting out," he said. "It feels like it's been forever."
Depending on how his rehab goes, Davies still could be out for a couple of more weeks. Before his injury, the 6-10 power forward had averaged 2.5 points and 2.0 rebounds in 37 appearances.
"We really love him. He plays so hard. He's a great teammate. He's a towel swinger," Philadelphia coach Brett Brown said. "He's one of those locker room guys that you really walk in and you enjoy seeing him. Even with mounting losses, he's somebody that came in and played with tremendous heart and tremendous energy."
Davies' pro high is 11 points, which he scored on Jan. 7 against Cleveland a week before his injury.
"I think I'm a long ways away from being the player I want to be in this league. I've had to kind of accept roles and that's how you stay in this league," he said. "I haven't really been able to show everything that I can do. I'll get more opportunities being the guy who's willing to do the things that Coach wants me to do."
Even though he's not playing, Davies admitted it feels good being in Utah as an NBA player.
"It took a lot to get to this point," he said. "Why not be thankful and happy where I am?"
EMAIL: jody@desnews.com
TWITTER: DJJazzyJody