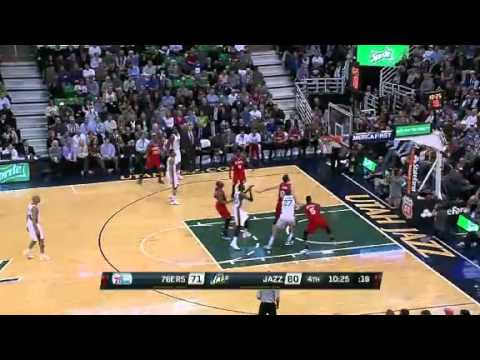 View 59 Items

SALT LAKE CITY — With the spectacular way he's played the past couple of days, it appears that Alec Burks could very well be headed for the annual NBA All-Star game himself someday.
For the second straight night, the third-year shooting guard put on a superb fourth-quarter show to propel the Utah Jazz to victory.
Indeed, when the Philadelphia 76ers rallied from a 14-point deficit in the final period to tie the score at 91-all with 2:10 remaining, it looked like an embarrassing collapse was very much in the making for Utah.
But just when things started to get grim, the 6-foot-6 Burks hoisted the Jazz on his shoulders and scored the game's next nine points over a critical 1:48 stretch to give the Jazz a 100-91 lead, and late free throws by Marvin Williams and Gordon Hayward preserved Utah's 105-100 victory Wednesday night at EnergySolutions Arena.
Burks wound up with a game-high 26 points, 15 of them coming in the fourth quarter alone. That one-man, game-changing run of his came on the heels of a similar 13-point outburst in the final period of Tuesday night's road win against the Los Angeles Lakers.
"Alec, I thought, did a great job of closing the game out for us and attacking the basket," Utah coach Tyrone Corbin said. "It's been great to be able to put the ball in his hands and get him to make plays for us, especially down the stretch in close games.
"He's a confident guy, and we need him to be that way because we want him to attack. The way he can mix his jump shots and getting on top of the basket, he's not afraid to get in there and get contact and finish, getting to the foul line and making plays.
"He's made some tremendous strides this year and we look forward to him continuing that," Corbin said.
"I was just being aggressive," Burks said. "Playing the game I play and trying to get to the rim."
Hayward had a rough 3-of-17 shooting night from the field, but thanks to his 11-of-12 foul shooting he finished with 17 points and had another stat sheet-filling effort with — shades of former Jazzman Andrei Kirilenko — seven rebounds, seven assists, three blocks and two steals.
Marvin Williams added 13 points and, with starting center Derrick Favors exiting Wednesday's game with a strained hip in the first quarter, Williams picked up the slack on the boards with a game-high 14 rebounds.
"He's been that guy for us all year," Corbin said. "Whatever you need from him to help us win, man, he's willing to do it. And he understands the moments when we need him to step up, if it's scoring or getting a defensive stop, or tonight getting rebounds and communication. He's been tremendous for us all year."
Enes Kanter, Jeremy Evans and Richard Jefferson each turned in solid performances of their own in a victory that gave the Jazz (19-33) their first three-game winning streak of the season in their final game before the annual All-Star break.
Kanter contributed 12 points and seven rebounds; Jefferson added a dozen points of his own; and Evans used some slick 5-of-7 shooting to score 10 more points as Utah's bench brigade — led by Burks, Kanter and Evans — outscored their Philly counterparts by a whopping 56-10 margin.
Kanter praised the performance of his teammate and fellow bench buddy Burks.
"He is playing really hard," Kanter said. "At the end, I got him his dunk, so he is appreciative of me. Alec just came in and hyped us up."
For Philadelphia, Evan Turner had 21 points, Michael Carter Williams added 19 with eight assists, and Thaddeus Young also scored 19 for the Sixers. Spencer Hawes had 16 points and 11 rebounds, and James Anderson chipped in with 15 points on the strength of five 3-pointers — three of them coming in the last 22 seconds to keep things interesting until the final buzzer.
The season-best winning streak will allow the Jazz to feel good about themselves heading into All-Star weekend at New Orleans, where rookie point guard Trey Burke will be Utah's lone representative — playing in the Rising Stars Challenge and also participating in the Taco Bell Skills Challenge, teaming up with Portland's Damian Lillard, the former Weber State star.
"We need the break," Corbin said. "But we needed to win this game first. It wasn't our best game, execution-wise, but we had enough resiliency to win the ballgame, and that's the most important thing right now.
"We need a break. We feel good about the last few ballgames, but the guys are beat up a little bit. And I think mentally it'll be good for us to get away from it for a little bit. Sometimes you get so inundated with it, physically you're beat up and your mind isn't in it. But you get a few days away you refresh yourself and kind of jump-start it.
"We're looking forward to the guys getting some rest and when they come back," he said, "we've got to get back to work. ... We'll try to get ourselves ready for the second half (of the season)."
OK, before we get too carried away, let's remind ourselves that this Sixers squad will never be mistaken for that great NBA championship team from 30-something years ago featuring Julius "Dr. J" Erving and Moses Malone. In fact, Philadelphia's record (15-39) is a few games worse than Utah's this season.
But when you're a young team that's just looking to learn, grow and get better every day, victories aren't like puny fish — you're not gonna throw 'em back in.
10
comments on this story
Crowd-pleasing dunks by Jefferson, Hayward and Evans paced the Jazz to a 31-22 lead by the end of the first quarter. But back-to-back 3s by Anderson helped keep Philadelphia within striking distance, 56-48, at halftime.
Jefferson, Kanter, Burks, Evans and Rudy Gobert each scored four points in a brilliantly balanced third quarter that ended with the Jazz holding on to a 78-69 lead.
Utah extended its lead to 14 points early in the fourth quarter, the last time at 89-75 on a jumper by Burks, before Philadelphia mounted a 14-2 run that deadlocked things at 91, setting the stage for Burks' late heroics.
EMAIL: rhollis@desnews.com