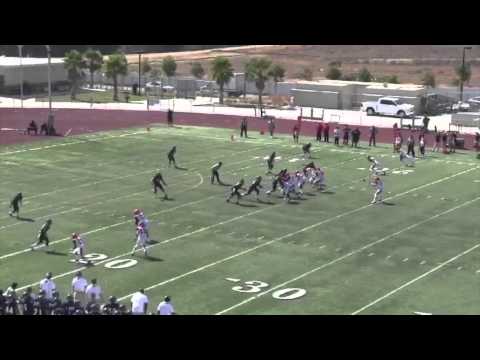 View 2 Items

I believe I definitely the type of speed be a good deep threat for them. I just want to work harder than I ever have and contribute to whatever role they have for me. But yeah, I believe stretching the field could be where I can help most.

—New BYU wide receiver Devon Blackman
RIVERSIDE, Calif. — There are few, if any, true substitutes for flat-out speed for an offense.
Speed can stretch a secondary's coverage, beat man-on-man coverage in the open field and otherwise wreak havoc on defensive game plan.
BYU fans saw what flat out speed can do for an offense back in 2004 when Todd Watkins came into the program. The Grossmont Junior College prospect took the Cougar offense to a new level with his unique ability to outrun a coverage and make plays downfield.
Coaches are hoping certain incoming players, who signed as part of the 2014 recruiting class, can make a similar impact for an offense that had difficulty stretching defenses last season.
First and foremost, among the speed merchant hopefuls is junior college transfer Devon Blackmon.
The Riverside Junior College transfer was widely mentioned by the Cougar staff as fastest player signed last Wednesday on National Letter of Intent Day.
So, exactly how fast is Blackmon?
To answer that question it's instructive to look at the school who signed him out of Fontana High School back in 2012. That school would be Oregon, a program that prides itself in posing the fastest offense in the country most years.
After difficulties at Oregon his first year, Blackmon transferred to Riverside and now hopes to provide the promise he did out of high school for BYU. As a junior college transfer he'll be looked at to make an immediate contribution to wide receiver group that struggled in stretching the field effectively in 2013.
"That's the plan and I believe I can help next year with what they want. I believe I definitely the type of speed be a good deep threat for them," Blackmon says. "I just want to work harder than I ever have and contribute to whatever role they have for me. But yeah, I believe stretching the field could be where I can help most."
While top-end speed may be his biggest attribute Blackmon isn't a one-trick pony on the field — far from it.
During his time at Fontana High Blackmon fulfilled a variety of roles on offense — showing a level of versatility vital to succeeding at the collegiate level.
"I played at quarterback, receiver and running back in high school, so I'm used to doing different things for an offense," he says. "I learned how to take hits playing running back and playing quarterback. I learned good route-running playing receiver. So yeah, I believe I can potentially do a lot more than just beating a defense over the top."
Another thing Blackmon is used to doing is playing alongside current Cougar running back Jamaal Williams. The two of them played together at Fontana, and Blackmon is excited with the prospect of doing the same at BYU.
"Me and Jamaal are real good friends and I'm definitely happy to be playing again with him, but the reason I'm going to BYU isn't about him. It's where I want to be and where I think I can have a lot of success," Blackmon says. "It's great to see the success he's had at BYU and hopefully I can have some of that same impact."
While succeeding on the field is certainly a top goal, it's not the only goal for Blackmon. During his time at Oregon the speedster learned the hard way of what it takes to survive college both academically and athletically.
"It was a humbling experience being there and then having to transfer to Riverside," he says. "I learned a lot and I'm going to take those lessons to BYU. It's a big reason why I chose BYU and the thing that gave them the edge over Fresno State, a school I was very close to signing with."
Indeed Blackmon stewed over his signing decision up until the night before National Letter of Intent Day. He fielded calls from Fresno coaches that night, but ultimately picked the Cougars for a very specific reason:
"The reason is I need a calm place where I can focus on academics and that place is BYU," he answered. "If it was just about football I probably would have signed with Fresno, but I need more than football. I'll really need it after football is done. I want to study communications and BYU has a better program for that than Fresno. Most of all I want a place where I can focus on what is important. It's been hard for me to do that in the past, but I need that now."
Blackmon will arrive at BYU in mid-June to prepare himself for an immediate impact on the field and to help acclimate himself to the program's academic and social regimen.
"I'm excited to get there," he says. "BYU is a place I never thought I'd be, but now that I've learned some good lessons I know it's exactly the right place for me. I'm going to give it my all off the field and I'm definitely going to give it my all on the field. It's an opportunity I'm not going to pass up and take for granted."
Email: bgurney@desnews.com
Twitter: @BrandonCGurney