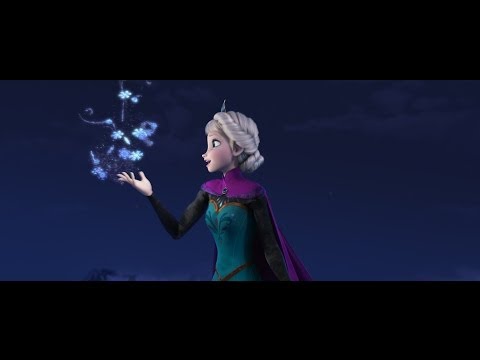 View 17 Items


After being overshadowed by rival studios for the better part of the last two decades, Disney Animation is officially back on top. It was announced recently that the studio's latest animated fairy tale, "Frozen," has surpassed Pixar's "Finding Nemo" to become the highest grossing original (i.e. non-sequel) animated feature of all time, excluding re-releases.
So far, the 3-D animated feature — the 53rd entry in Disney's Animated Classics series — has earned a cool $368 million in U.S. theaters, with another $545 million from overseas, according to BoxOfficeMojo.com. And that's without having opened in Japan, one of the largest box offices after the U.S.
Needless to say, $913 million is a big deal for the House of Mouse, but it's also good news for fans of classic Disney animation. That's because, not too long ago, the future of fairy tale and princess movies at Disney seemed to be up in the air.
In 2010, just a few days before "Tangled" celebrated its theatrical release, the Los Angeles Times ran a front-page story by Dawn Chmielewski and Claudia Eller with the headline "Disney Animation is closing the book on fairy tales."
The centerpiece of the article was a quote by the president of Disney Animation Studios, Ed Catmull, that seemed to indicate "Tangled" could be the end of an era for Disney.
"Films and genres do run a course," said Catmull. "They may come back later because someone has a fresh take on it … but we don't have any other musicals or fairy tales lined up."
At the time, the L.A. Times reported, Catmull, along with Disney and Pixar's chief creative officer, John Lasseter, had just shut down two in-development animated fairy tales. One of them, which has yet to officially resurface, was "Jack and the Beanstalk." The other was "The Snow Queen," the long-gestating Hans Christian Andersen adaptation that, of course, eventually morphed into "Frozen."
According to the L.A. Times article, Catmull and Lasseter had been encouraging filmmakers to "break with safe and predictable formulas and push creative boundaries." Catmull was quoted as saying, "If you say to somebody, 'You should be doing fairy tales,' it's like saying, 'Don't be risky.' We're saying, 'Tell us what's driving you.' "
Catmull responded to the article the same day it was published with a carefully worded Facebook post:
"A headline in today's L.A. Times erroneously reported that the Disney fairy tale is a thing of the past, but I feel it is important to set the record straight that they are alive and well at Disney and continue this week with 'Tangled,' a contemporary retelling of a much loved story," Catmull wrote. "We have a number of projects in development with new twists that audiences will be able to enjoy for many years to come."
In retrospect, it's obvious that the "sea change" described in Chmielewski and Eller's L.A. Times article didn't last long at Disney.
So what happened? Well, for one thing, "Tangled" opened just three days later, and it proved to be a huge hit.
Worldwide, Disney's first 3-D animated princess movie grossed $591 million ($200 million domestic), according to BoxOfficeMojo.com, and earned an A+ CinemaScore from audiences. Even more importantly, the decidedly modern riff on the Rapunzel story showed that it's possible to break a lot of the classic Disney fairy tale conventions and still achieve a classic Disney feel.
Now, far from disappearing, the Disney fairy tale has been given new life, and it's a genre that doesn't seem to be going anywhere in upcoming years.
Along with a new sing-along cut of "Frozen" now in theaters, Disney CEO Bob Iger has confirmed to Fortune plans for a live Broadway version that will join the ranks of the company's other animated-to-stage productions like "The Lion King" and "Beauty and the Beast."
Speaking with Fortune, Iger talked about his feelings watching Disney's latest animated fairy tale at its premiere, saying, "It was my proudest moment as the CEO of the Walt Disney Company," he said. "I realized, 'My goodness, Disney Animation is where it rightfully belongs.' "
In the end, it turns out the secret to Disney's first box-office smash in almost 20 years wasn't fewer princesses but more. Two in one movie — why didn't anyone think of that sooner?
A native of Utah Valley and a devoted cinephile, Jeff Peterson is currently studying humanities and history at Brigham Young University.