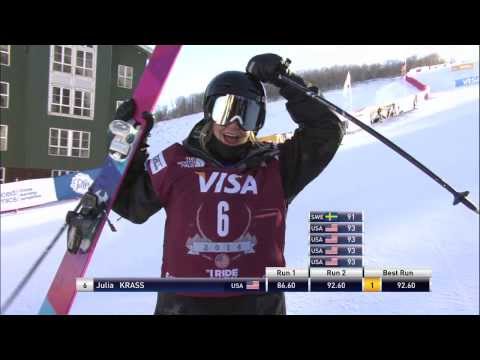 View 2 Items

I'm just going to go and do the best I can. I'm not really going to give myself pressure or expectations. Hopefully it ends well.

—Julia Krass
KRASNAYA POLYANA, Russia — Of course Julia Krass wanted to make the first-ever Olympic team for slopestyle skiing.
But at 16, she wasn't sure how much of what she felt was hope and how much was faith in her abilities.
"I knew it was a possibility," said Krass, who will compete in her sport's debut at the Olympics on Tuesday at Rosa Khutor Extreme Park. "I wasn't really sure until training started for the Park City Grand Prix. That's when I felt pretty confident that I could make the team." She was doing tricks that she knew would give her an edge.
"I was doing tricks I knew no other girls were doing," she said, referring to what's known as an unnatural cork 700. She also added a 900 spin, and landing those changed her from a teenager wishing she was an Olympian to a contender. "I was just feeling super confident with the run I was going to be able to put down. And I knew it was a double competition so that if I had two good results, I could do it. It psyched me up, but also put a lot of pressure on me."
The way it worked out, Krass had to win on the final day to make the team. With all of the pressure — and all of the power — she laid down a beautiful run and earned herself a trip to Sochi, Russia. She's experienced one mind-blowing experience after another as she appeared on the "Today Show," dealt with international press conferences and the pomp and circumstance of representing one's country on the biggest stage possible.
Krass was born in Connecticut but grew up in Hanover, N.H.
"When I was 8 or 9 my brother got into freesking," she said. "We'd kind of go through the park and mess around. He got me into it. I did moguls and aerials, and as I got older, I was just much better at slopestyle. And it was a lot more fun for me."
She was serious enough to leave home a couple of years ago and attend a ski academy in Waterville Valley, N.H. But last year she decided to take an even more drastic step in hopes of having the opportunity that awaits her Tuesday morning.
"I decided if I wanted to take it to the next level, I needed to move to Park City," she said. She moved in with a host family and attends school online.
"There is a lot more snow, much better parks and it saves a lot of money driving to the competitions," she said. "It's definitely nice being out here (in the West)."
One bonus for Krass was that her 15-year-old roommate Maggie Voisin also made the team. But she injured her ankle on Friday, the same day Olympic champions Shaun White and Torah Bright criticized the course. White eventually pulled out of the slopestyle competition, saying he didn't want to hurt himself as he attempts to make history as the first in his sport to win three consecutive gold medals in halfpipe.
"I stand by my comments," said Bright after finishing seventh in the women's event on Sunday. "I stand by my words that the level of build in the freestyle events does not match the level of riding. I'm not wincing; it's just the way it is."
But other snowboarders, including gold medalist Sage Kotsenburg, also from Park City, said athletes always expect to work with course designers in the first few days of training to make adjustments.
None of that matters to Krass, who took to Twitter to express her excitement about competing in the sport's Olympic debut.
"I've done all the preparation I can, and now it's game time," she tweeted. "Tomorrow at 10 a.m. everything kicks off. Can't wait!"
Krass said that, like many of the women she will compete against, they will hold the late Sarah Burke in their hearts. The Canadian freeskier died after hitting her head while training at Park City Mountain Resort in 2012.
"It's really important," she said of honoring Burke with their effort. "Her name gets brought up all the time. She's one of the main reasons I'm going to be going to Russia. Everyone is always thinking about her." Krass will compete against some tough competition, first and foremost, her teammate Devin Logan, who lives in Park City, and Keri Herman, a Breckenridge, Colo., skier.
Logan tried to qualify in both slopestyle and halfpipe, but came up just short in halfpipe.
"OK, let's break this down for a sec," Herman tweeted Monday. "The Olympics! I seriously can't believe I … made it here. So excited to ski with my friends tomorrow!"
But one of the youngest in the competition, Krass is trying to keep everything in perspective while appreciating just how special this opportunity is.
"I'm just going to go and do the best I can," she said on her last day in Utah. "I'm not really going to give myself pressure or expectations. Hopefully it ends well."
Simply calling herself an Olympian is still an adjustment.
"To be honest, it still kind of seems like I'm in a dream," she said laughing. "It still doesn't seem real … there are so many thoughts going through my head. … But I do picture myself on the podium."
Email: [email protected]