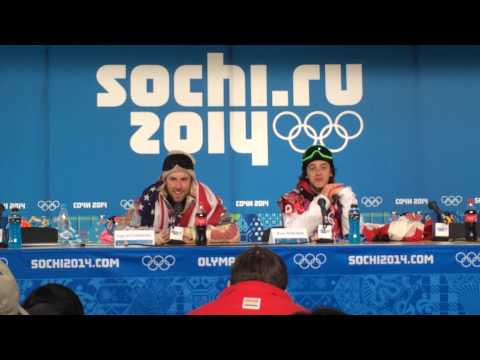 View 20 Items
Amy Donaldson, Deseret News

I'm so proud that he's true to himself and true to snowboarding and why he started.

—Carol Ann Kotsenburg
SALT LAKE CITY — Even though the outcome had been spoiled hours earlier, friends and family of Sage Kotsenburg gathered Saturday night at Brewvies Cinema Pub to watch the snowboarder and Utahn take home the first Sochi Olympic gold on the big screen.
A group of more than 50 people gathered to watch the event, whistling and cheering each time Kotsenburg showed up on screen. After Kotsenburg's gold medal winning run during the men's snowboard slopestyle finals, the crowd broke into applause and chants of "U.S.A, U.S.A."
Kotsenburg's brother Blaze Kotsenburg said that even though he and many family members had already watched the competition online, the viewing party gave them a chance to show support and also enjoy the event without the tension of an uncertain ending.
"It's nice to just take it in," Blaze Kotsenburg said. "It happened so quickly last night, it still hasn't settled in. I think watching it (again) is going to help everyone believe it actually happened."
Sage Kotsenburg – described as "the pride of Park City" during NBC's Olympic coverage – took first place in the men's slopestyle competition, a snowboarding event new to this year's Olympic Games. As an athlete, Kotsenburg is known for embracing a creative riding style and shunning a precision conformity designed to impress the judges.
On Saturday, his father Steve Kotsenburg said that while watching his son's first run in the slopestyle finals, he knew that he had "nailed it" and didn't care what the judges thought.
"I think he was there to make a statement about snowboarding and what he's about," Steve Kotsenburg said. "It has to be fun, when you lose the fun in snowboarding it's not worth doing it."
2
comments on this story
Carol Ann Kotsenburg said she and her husband decided against traveling to Sochi after Sage Kotsenburg expressed some concern that he would be worried and distracted over their safety. But even back home, she said she was a bundle of nerves while her son competed.
"I tend to watch with my hands over my face," she said. "I get pretty nervous. I usually don't like to be right there."
She said that Sage Kotsenburg isn't motivated by awards or recognition, but added that she was pleased to see him recognized for his hard work.
"I'm so proud that he's true to himself and true to snowboarding and why he started," Carol Ann Kotsenburg said. "This isn't why he started but it's a nice plus."
Contributing: Shara Park
Email: benwood@deseretnews.com, Twitter: bjaminwood