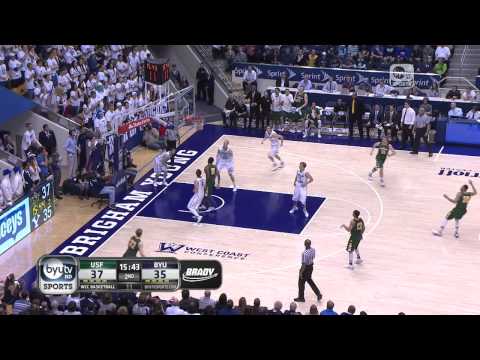 View 16 Items

PROVO — All season long, opposing teams have tried to devise ways to stop, or at least slow down, BYU star guard Tyler Haws.
San Francisco coach Rex Walters' ploy was to put 6-foot-9 defensive stopper Mark Tollefson on Haws, who had scored 169 points in his previous five games.
Haws had a quiet night for the Cougars Saturday at the Marriott Center — at least by his prolific standards — finishing with 19 points on 7-of-20 shooting. However, Walters and the Dons gave up something.
Rebounds. Lots of them.
"Ty's such a big threat that even when he's not, he's such a huge part of our offense because he creates such tough matchups for other teams," said guard Matt Carlino, who came off the bench to score 11 points and dish out nine assists. "They had a 6-9 guy on him tonight. That lends itself to offensive rebounds. That's big."
BYU's Nate Austin and Eric Mika dominated the boards, which played a major role in the Cougars' 68-63 victory over San Francisco.
With the win, BYU (17-9, 9-4) took sole possession of second place in the West Coast Conference behind league-leading Gonzaga. San Francisco fell to 15-9 and 8-5.
Austin collected a career-high 16 rebounds, and Mika recorded a double-double with 13 points and 13 boards. As a team, BYU outrebounded USF 47-29. The Cougars had 20 offensive rebounds, including eight for Austin. Guard Kyle Collinsworth had 19 points and added eight rebounds.
"They're a great rebounding team," BYU coach Dave Rose said of the Dons. "Our guys tonight outrebounded them pretty good. That's what it took (to win)."
When Austin wasn't pulling down one of his rebounds, he was drawing charges, tipping the ball out — volleyball-style — to a teammate, and recording a put-back dunk.
"At the end, I kind of expected him to grab (rebounds) because he kept getting them," Carlino said. "He came up huge the whole game. … He does that everyday in practice. He played awesome."
The Cougars knew how big this game was against USF. The two teams entered Saturday tied for second place in the WCC.
"It was just a big game. It was a game we had to win," Austin said. "We did it as a team. … We were playing desperate. We were playing for the win and we got it."
While BYU never trailed in the first half, San Francisco seized the lead early in the second half and held on to it for more than 12 minutes. USF shot 57 percent in the second half.
With a little more than five minutes remaining, right after two Haws free throws gave the Cougars the lead again, 57-55, Austin drew a charge. Then, on the ensuing sequence, he rebounded a Mika miss and dunked it, prompting a thunderous roar from the crowd of 18,327.
"Nate, the whole season, has been consistent for us, but especially the last four weeks," Rose said. "The charge he took late in the game was huge for us. … I'm really happy for Nate because he's filled a role for this team and he's consistent every night to help this team win."
When the Cougars needed scoring, Carlino rose to the occasion, knocking down three 3-pointers in the second half.
"I thought Carlino gave them a great lift," Walters said. "Those 3s really hurt us and got them going. He really stepped up."
"Matt always comes up clutch. He's a big-time player," Austin said. "He's basically a starter coming off the bench. That's what we need right now, a key guy coming off the bench and giving us points like he has game in and game out."
A Carlino 3-pointer with 2:35 remaining gave the Cougars a 65-60 advantage, and Mika's bucket with two minutes left put BYU up 67-60.
But the Dons kept it close as Tim Derkson, who came off the bench to score a team-high 17 points, buried a 3-pointer to make it 67-63.
Then, in the final 1:05, Collinsworth missed four consecutive free throws. Fortunately for BYU, on his fourth errant free throw, Mika came up with a big offensive rebound — again — that helped preserve the victory.
32
comments on this story
In the first half, BYU outrebounded USF, 29-13, as Austin had 10 boards and Mika grabbed eight.
At halftime, the Dons came out early from the locker room and, before practicing their shooting, practiced boxing out as part of some defensive rebounding drills.
It may have helped San Francisco in the second half, but ultimately, it wasn't enough to overcome the rebounding of Austin and Mika.
"The offensive rebounds really hurt us," Walters said. "You just can't simulate their size and athleticism."
BYU visits Pacific Thursday (9 p.m. MST, ROOT).