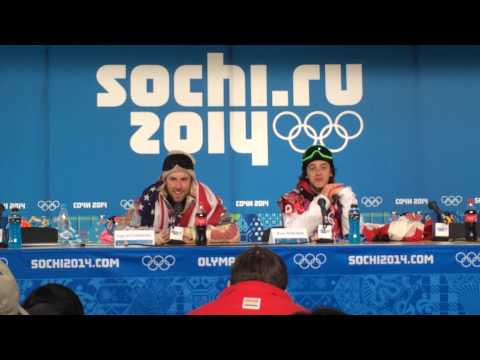 View 16 Items
Amy Donaldson, Deseret News

This sport is based on what you want to do, there is no blue print. You can really make your own mark, do your own tricks.

—Sage Kotsenburg
KRASNAYA POLYANA, Russia — If Sage Kotsenburg wanted to win a prize no one thought he could, he decided he needed to do something he'd never done.
Frustrated all week with how to balance what he wanted to do in the first-ever Olympic slopestyle snowboarding contest with what he thought might please the judges, the 20-year-old Park City native said he was just relieved to make the finals Saturday at Rosa Khutor Extreme Park.
But as he made his way back up to the top of the course for the finals, his spontaneous style moved him to run a crazy idea past his coach.
"I had this in my mind all day," he said, a flag draped around his neck after winning the first gold medal of the 2014 Olympic Games with a score of 93.50 points. "I called my brother. I talked to (the U.S. team coach), and I was like, 'I think I'm going to go back 16 Japan,' and he was like, 'Send it. What have you got to lose?' And then I landed it."
Adrenaline, pressure and a desire to show the world that snowboarding is as much about style as it is big tricks, convinced Kotsenburg that he could land a trick he'd never even imagined before Saturday.
"I'd never even tried it before in my life, literally," he said, admitting he surprised himself by winning Olympic gold. "That's what's cool about snowboarding. You can go out there and try your own trick, put your own flair on it. ... Just to land it at the Olympics is so cool. This sport is based on what you want to do. There is no blueprint. You can really make your own mark, do your own tricks."
Kotsenburg won without throwing a triple, although he offered the most unique tricks, including a rail grab he invented called "The Holy Crail." Norway's Staale Sandbech earned silver with 91.75 points, while Canada's Mark McMorris, who broke his ribs competing at X Games two weeks ago, earned bronze at 88.75.
Canadian Max Parrot, who entered the finals in first place but finished fifth, said he was happy for Kotsenburg.
"He's got his own personal style, and I'm happy that he showed that off today," Parrot said. "I think this was a really good show, and I'm happy that I've been able to show my own personal style. I'm happy the whole world now knows our sport."
While some suggested the victory showed that judges value style over huge tricks, specifically triple flips, others said there are a lot of ways to make a run both challenging and entertaining.
"Sage's run was really technical, even though his tricks are ridiculously stylish," said Billy Morgan of Great Britain. "Putting the extra grabs and different grabs in tricks just adds to the difficulty. So really, as he does his style, he's putting way more difficulty on his tricks, which is why Sage is now the Olympic champion."
Two-time Olympic gold medal winner in alpine skiing Picabo Street was in the finish area waiting to give Kotsenburg a massive hug. She said his victory sends a message to snowboarders that going bigger isn't always the best way to win.
"The message that I got was that the judges are looking for style," Street said. "This isn't a big-air competition. This is can you go big and stick the tricks? Can you ride the jib? Can you balance these things."
She was thrilled the first gold medal of the Sochi Games belonged to her adopted hometown of Park City.
"I think it's fantastic to see (the sport) debut," she said. "I loved to see that Sage won. Sage is such a good kid."
She attributed some of his success to growing up in Park City.
"Park City has put in so much time and effort to create the kind of training ground there, that I actually am not surprised to see the results here," she said. "Because Sage has been training in the best terrain in the states in Park City for years now."
Kotsenburg said watching the U.S. men sweep the snowboard halfpipe on his home course in the 2002 games fueled his passion for the sport.
"That was huge," he said of watching the games in Utah. "That kind of got me more stoked on snowboarding, to see it as a global sport."
Kotsenburg said the victory genuinely shocked him because, well, he hasn't spent a lot of time on top of the podium.
"I had a mega drought there," he said smiling. "I won a couple of weeks ago and before that the last time I won was nine years ago. And then coming in here and winning, I can't even describe the feeling. It's so cool."
Kotsenburg, who was actually the Dew Tour's overall champ in 2011, said that being an underdog allowed him some breathing room in a final that featured plenty of triple flips.
"Once I got into finals, I could let it ride," he said. "The level of riding today was pretty crazy. Seeing everyone ride was insane — everyone was doing triples and 14s and 1620s. It's pretty unreal. I think these guys could have won on any given day, but it was my day today."
As much as he wanted to relax and treat the Olympics like any other competition, he said that wasn't entirely possible.
5
comments on this story
"I'm not in snowboarding to win everything, but we're not here to get third or fourth or fifth either," he said. "We're here to get a gold medal, especially to bring it home to your country. It's such an honor to be at this place, to represent your country like that. You know, it's not just for you, you're representing everyone who's back home cheering for you. … Everyone back home helps more than they know."
And Street hopes Kotsenburg's success on sport's largest stage inspires young boarders back home.
"I think it's going to be neat that he's going to bring (the medal) back home to Park City," she said. "To all of the kids who've sat and watched him and been in the park with him, and are like, 'I've ridden with him.' It just makes that much more touchability with the sport."
Twitter: adonsports
Email: adonaldson@deseretnews.com