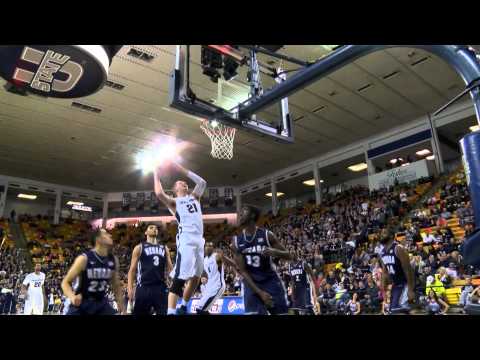 View 5 Items

Monkey off the back right there. We definitely needed that as a team.

—Utah State guard Spencer Butterfield
LOGAN — There is still plenty of work to do, but Utah State took its first step on the comeback trail Wednesday night.
The Aggies clawed to an 83-75 victory over Nevada on a snowy night in Logan. The win snaps a five-game losing streak for the Aggies.
"Monkey off the back right there," guard Spencer Butterfield said. "We definitely needed that as a team."
Butterfield provided the energy and shooting the Aggies (13-9, 3-7 Mountain West) sorely needed. The senior finished with 20 points and 11 rebounds to pace USU.
The Aggies recovered from a slow start to take a 28-27 lead into the half. The team finished the first stanza on a 15-6 run against the Wolf Pack (12-11, 7-3). Butterfield, Kyle Davis and Jarred Shaw accounted for all 15 points during the run to help spark the comeback. Butterfield nearly accounted for a double-double in the first half alone with nine points and eight rebounds.
Not content with just a one-point lead at halftime, USU came out firing in the second half, knocking down back-to-back 3-pointers to stretch a lead to seven. The Aggies never trailed again.
Every time Nevada mounted a run to close the gap in the second half, the Aggies had an answer. When Deonte Burton knocked down two free throws to cut the deficit to two with a little more than eight minutes to go, USU turned on the afterburners, running off a 10-1 run to go up 69-58 with just more than three minutes remaining.
Nevada fought back with a full-court press that caused a couple of Aggie turnovers, but never got closer than six points down the stretch.
Utah State guard Preston Medlin went scoreless in the first half, but provided a second-half spark with 14 points. Shaw finished with his 13th double-double of the season, collecting 17 points and 13 rebounds. Fellow post Davis scored 12 points, 10 from the free-throw line, to round out the Aggies in double figures.
Nevada guard Deonte Burton, the conference's leading scorer, finished with 23 points, but took 18 shots to get there, which was fine by the Aggies, who had been struggling on defense during their losing streak.
The key to breaking out of the slump, according to head coach Stew Morrill, was not a game plan or an individual effort, but an upbeat attitude and a great set of practices during the week leading up to the game.
"Under the circumstances, I have to be really proud of our team," Morrill said. "It's hard when you are 2-7 and got your tail kicked a number of times. We had really good practices. We talked about having some energy and not cashing it in."
Utah State will stay at home for its next game, a Saturday afternoon tip against Boise State. The Broncos narrowly fell to No. 5 San Diego State, 67-65, in Boise on Wednesday night.
Kraig Williams is a 2010 Utah State University graduate and regular Deseret News sports blogger. He can be followed on Twitter @DesNewsKraig.