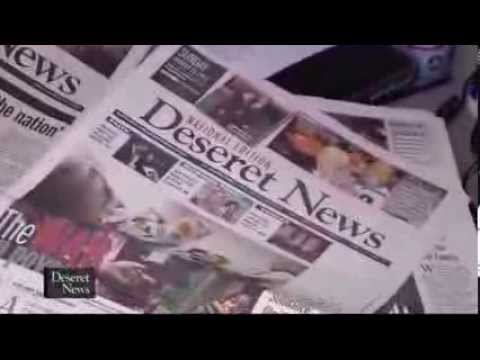 View 4 Items


This week's "Deseret News Sunday Edition" takes a closer look at the National Edition, a "Mediatrician" explains how to keep kids healthy and an Olympian talks about juggling motherhood and competition.
Segment 1
The Deseret News has been taking a new approach to covering news with the National Edition. A print subscription mailed directly to homes is now available in Utah and several other states around the country. Reporter Keith McCord discusses how this paper fills a gap for readers with Clark Gilbert, CEO and president of the Deseret News, and Paul Edwards, editor of the Deseret News.
Segment 2
Comcast has been holding parental control seminars around the country, and that's where the Deseret News caught up with "Mediatrician" Michael Rich. He is the director of the Center on Media and Child Health at Children's Hospital Boston, Harvard Medical School and Harvard School of Public Health. He is also a parent. "As a former Hollywood filmmaker, I am a lover of media. But as a pediatrician, I see that media have both positive and negative effects on children's health," said Rich. He explains how to keep kids healthy in the Digital Age.
Segment 3
Comment on this story
This week, the world will begin watching some of the best athletes compete in the Winter Olympics. Most Olympians credit strong family support for getting them to the games. Family is so important to one athlete she actually never leaves home without them. Bobsledder Noelle Pikus-Pace travels to competitions around the world with her husband and children. She talks about the importance of family in a Kellogg's commercial. Pikus-Pace is not the only Olympic parent, but she is the only one who travels to every competition and training with her entire family.
Dave McCann visited with Olympic freestyle skier Ashley Caldwell. She talked about the importance of her family and all the people she will be thinking about if she wins the gold.
The "Deseret News Sunday Edition" runs on KSL-TV at 9 a.m. on Sundays and highlights six areas of editorial emphasis: family, faith in the community, excellence in education, values in media and culture, causes related to helping the poor and financial responsibility.
Candice Madsen is a senior producer of special projects for KSL-TV and produces the weekly television program "Deseret News Sunday Edition." EMAIL: cmadsen@ksl.com