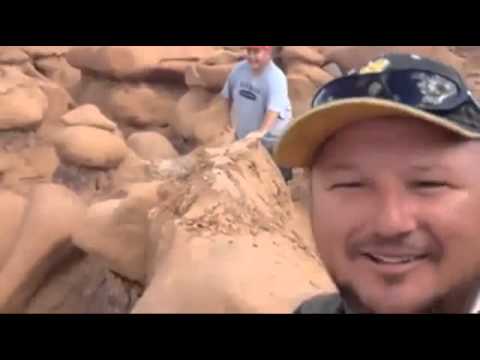 View 4 Items

HIGHLAND — Two Highland men who gained international infamy last year after a video showing them pushing over a rock formation in a Utah state park went viral now face felony charges.
The man accused of toppling the rock, Glenn Taylor, 45, was charged Friday in 7th District Court with criminal mischief, while Dave Hall, 42, was charged with aiding in criminal mischief. Both charges are third-degree felonies, carrying potential maximum sentences of five years in prison and $5,000 in fines.
Taylor and Hall were visiting Goblin Valley State Park with a Scout troop in October when they spotted a rock formation that they say they believed was at risk of falling on hikers traversing a nearby trail.
Hall recorded video on a cellphone and offered commentary while Taylor can be seen pushing over one of the delicately perched hoodoo formations that give Goblin Valley its name.
The one-minute video took off once it was shared on social media, going viral in a matter of days. The international attention brought hate mail and death threats down on the two men, and the Boy Scouts of America dismissed them from their role as Scout leaders.
They came to be known as the "Goblin Topplers."
After charges were filed Friday, Hall said briefly that he and Taylor have made their apologies and now want to leave the incident behind them.
"We've said what needed to be said in the past. We've apologized. We've said we're sorry. We're happy to see this thing coming to an end," Hall said. "We can't undo anything, so we're moving on."
The two men told reporters last fall they acted out of concern for the safety of others in the park, and at the time they never considered what they were doing could be criminal.
"Neither one of us were out there intending to do illegal activity," Hall said. "It just made sense to us at the time — remove the danger so that we don't have to hear about somebody dying."
In the wake of the goblin toppling scandal, Rep. Dixon Pitcher, R-Ogden, introduced a bill at the Utah Legislature that would criminalize damaging state parks. HB68 is scheduled to be discussed in the House Natural Resources, Agriculture and Environment Committee.
Taylor and Hall are scheduled to appear in 7th District Court in Castle Dale on March 18.
Twitter: McKenzieRomero