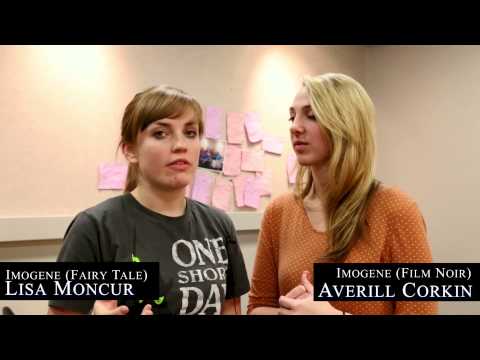 View 3 Items

Teresa Dayley Love relates that Shakespeare's "Cymbeline" is a "crazy, complicated story," but her original, lighthearted adaptation makes the romantic adventure accessible to young students — and also very young students.
"There are two versions: The first, for first- to third-graders, is a dark fairy tale, and the second is a noir mystery for older students," Love said. "The fairy tale adaptation focuses on the importance of story, while the other is all about genre.
"I want the little kids to leave their version thinking, 'Oh, Shakespeare is a good storyteller,' and the older kids to say, 'Oh, Shakespeare is cool.' "
The Young Company, a touring troupe sponsored by BYU's Department of Theatre and Media Arts, began its mission to introduce theater to young audiences in 1974 as the Whittlin' Whistlin' Brigade. After premiering productions on campus, the company travels throughout the state, giving about 45 performances each school year and reaching an average of 20,000 students annually. Now, at the company's 40-year anniversary, university officials estimate the total number of youngsters who have enjoyed the program is near 900,000.
"Every performance feels a little profound because we know we are introducing something important," Love said. "It will be their first experience with accessible theater because it is theater designed specifically for children. Too often, people think children's theater is about skipping around and talking bunnies. But good theater resonates with kids."
The playwright-director-instructor believes the impact of theater in schools is far-reaching.
"There are some things that are only learned through the arts, and there are some things that are taught better through the arts," Love said. "Taking theater to schools is a very enriching experience for students. There are a lot of opportunities for learning when theater is presented. And theater reaches some kids that other methods of learning can't. Students can go through the system of how school is set up and never feel like that they belong. They don't learn that way."
Based on legends of early Celtic kings, "Cymbeline" is one of the Bard's most fantastical creations. Familiar Shakespearean themes of jealousy and innocence wronged are joined by a wit who becomes a guide through an ancient landscape. A lovely princess, an evil queen, a misguided king and a thoroughly rotten clown make up this legend of life and love renewed.
Although scholars have organized Shakespeare's plays into four distinct categories (history, tragedy, comedy and romance), "Cymbeline" arguably contains aspects of all four of these genres. "Straightforward" and "uncomplicated" are words not generally used to describe the play, which was first published in 1623. It's also been speculated that by frivolously spinning absurd tales, Shakespeare wrote "Cymbeline" merely to amuse himself.
"Shakespeare employs some familiar elements from his other plays. There is a little bit of 'King Lear,' a little bit of 'Othello,' a little bit of 'The Winter's Tale' — all these different things are involved in the storytelling," Love said. "He actually writes himself into a hole more than once. It's one of the times when I realize that Shakespeare really was a genius, because of the way the convoluted story ends, with everyone happy and getting married."
At the BYU preview, before the Young Company's "Cymbeline" is staged for area schools, theatergoers will select which of the two versions to view or they may buy two tickets and view both versions back-to-back. They can see how each compares to the other and how the focus shifts — from an emphasis on storytelling in the fairy tale version to a review of genre in the noir mystery.
But when the show is presented on tour, the different age groups will see the version created for them. Each version has separate character names, costumes and props, with some dialogue changed to follow the revised scripts.
As with old-world fairy tales and continuing through to contemporary movies, "Cymbeline" is "about choices and finding your way through a hostile world," Love said. "But I also want to make audiences understand that when we make choices creatively, we can significant impact the results."
If you go ...
What: BYU Department of Theatre and Media Arts' adaptation of William Shakespeare's "Cymbeline"
Where: The Margetts Theatre, Brigham Young University
When: Friday, Jan. 31, through Saturday, Feb. 8; Tuesday-Thursday at 7 p.m.; Fridays at 7 p.m. and 9 p.m.; Saturdays at 11 a.m., 2 p.m. and 4 p.m.; no performances Sundays or Mondays
How much: $4-$6
Tickets: 801-422-2981
Web: byuarts.com/tickets