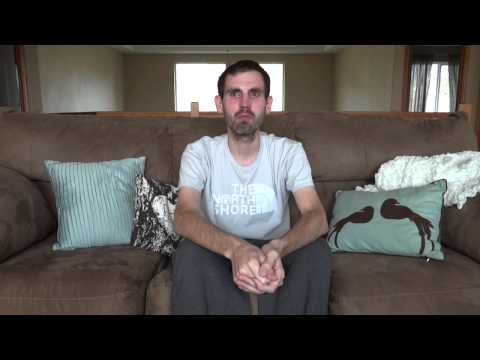 View 10 Items


Just talking to God about how I know that even if I'm not here, that he's her father, that he's going to take care of her, he's going to protect her, he's going to watch out for her, he's going to provide for her.

—Nick Magnotti
Nick Magnotti is a 27-year-old father who battled appendix cancer for more than two years, and his long journey of faith and courage recently came to an end. On Jan. 7, Magnotti left behind his wife, Alyssa, and 9-month-old daughter, Austyn. But before he died, he made sure his daughter would know what kind of a man her father was.
Three months before Magnotti died, he made a video of himself explaining his trust in God and his love for his daughter.
"The relationship that I've developed. The amount that I've gotten to know God. I just wish that everyone could experience what I feel. I just feel so blessed," Magnotti says in his video.
"I just feel lucky that even in experiencing this pain that I'm getting opportunity to change lives, in the Lord's name, I'm getting the opportunity to help people."
Throughout the video, Magnotti testifies of his belief in God and expresses his gratitude for what God has given him.
"I'm not scared of death. You can say, being a Christian, that you're not scared of death because you know you're going to a better place. But, it's human nature to want to be scared," Magnotti said. "I know why I don't feel scared. I know it's because God has given me this peace and this blessing."
Magnotti spoke about how difficult it was when he first received news that he had cancer a few years ago.
"Alyssa and I sat down on the couch and we cried," Magnotti said. "And we decided we were going to hit it head on and take this beast."
But Magnotti soon came to a point where the cancer was spreading too quickly, so he decided to stop receiving treatment and live every day he had left to the fullest. This was especially inspired by his desire to spend time with his daughter, Austin.
In the video, Magnotti explains what he hopes she will know about him after he's gone.
"She is my little bundle of joy, and I love her so much," Magnotti said. "This is another reason why we're doing this video is because I want her to know that her daddy loved the Lord and that her daddy wants to help people."
With the understanding that time was short, Magnotti took advantage of the simple things in life.
"I live every day with the appreciation for today. I'm not concerned with what tomorrow will bring," Magnotti said. "I feel blessed because I'm living every person's dream. I get to spend every day with people that I love."
In ending the video, Magnotti becomes emotional when speaking about his daughter and the life she will live without him. But as he praises her and expresses how proud he is of her, Magnotti also confirms his faith that God will watch over her for him while he's gone.
"Just talking to God about how I know that even if I'm not here, that he's her father, that he's going to take care of her, he's going to protect her, he's going to watch out for her, he's going to provide for her," Magnotti said.
Since Alyssa Magnotti posted the video of her husband, many social media sites have shared it, spreading Magnotti's message even further. Alyssa Magnotti also recently posted a video from her husband's favorite NFL team, the Seattle Seahawks. In the video, which was made for Magnotti's birthday a few months ago, Golden Tate, Russell Wilson and Richard Sherman all wish Nick the best and hope to win the Super Bowl for him.
"Just know we're praying for ya. We're praying for your family," Tate said in the video. "Stay strong, man. God has a plan."
Throughout it all, Alyssa Magnotti has documented her family's experience on her blog, Team Magnotti. After her husband's death, she shared her faith as well.
"I am elated that he is with Jesus and finally cancer free, but I am also heartbroken for me," she wrote on the blog.
"Though this is the worst thing that I could have possibly imagined to happen to me and my baby girl, God is ever-present. He is here, and though I do not understand his ways, I am choosing to trust. I hope that you can, too."
Email: [email protected]