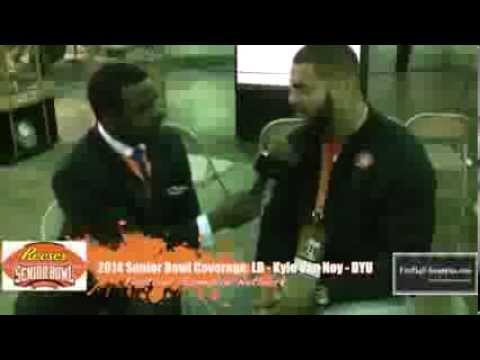 View 9 Items

MOBILE, Ala. — Five graduates from local college programs are taking part in the Senior Bowl, which takes place Saturday at 2 p.m. MST and will be televised on the NFL Network.
Those players are BYU's Kyle Van Noy and Cody Hoffman, Utah's Keith McGill and Utah State's Nevin Lawson and Tyler Larsen. Van Noy, Hoffman and McGill will compete with the South Team, while Lawson and Larsen will be part of the North Team.
In the week leading up to the game, players have performed in front of scouts and national media with some receiving effusive praise for their practice performance.
Van Noy's practice performance has stood out to most observers, such as Rob Rang from CBSSportsline.com.
"Van Noy shows excellent play recognition," Rang reported. "(He) takes on blockers with the correct shoulder (allowing him to slide off would-be blockers and into ball-carriers easily) and is equally effective slipping into coverage or sliding past offensive linemen on his way towards a tackle behind the line of scrimmage."
Eric Galko, from Optimumscouting.com, writes, "The most impressive performer of the day was BYU's Kyle Van Noy. The most naturally balanced and controlled athlete of the linebacker group, he was the leader in each drill on day one."
McGill has also been a standout, according to Galko in a report for the Sporting News. "The corner with the highest ceiling looks like Utah's Keith McGill," he writes. "At 6-3, 214 pounds, he moves with tremendous fluidly through transitions and impressed during T-step redirect drills."
Jeff Risdon, of RealGM Football, has been impressed with Lawson. "Utah State CB Nevin Lawson earned his call-up from Shrine Game Week, here his quickness really stood out," writes Risdon. "It stands out here as well. There is a strange paucity of corner talent on the North roster, and Lawson is taking advantage of his opportunity."
As for Hoffman, the reviews have been largely mixed thus far but he received praise from Tony Pauline of philadelphiaeagles.com.
He uses great technique getting off jams at the line of scrimmage and follows that up by running crisp routes into the clearing on the field," writes Pauline. "All week long Hoffman has shown consistent hands, catching everything thrown in his direction. He's not a field-stretcher, but is a reliable underneath target who will get consideration as a third receiver for any NFL team."
Regarding Larsen, Galko had this to say, "Utah State center Tyler Larsen made a strong impression with his ability to latch onto defenders and create movement inside. Larsen generates force on initial contact and can win as a belly-to-belly blocker in a man-scheme, yet his punch technique and lack of length limits his NFL projection."
Email: [email protected]
Twitter: @BrandonCGurney