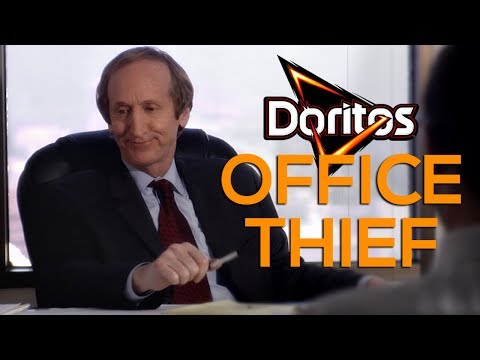 View 6 Items

I wanted to enter for a long time. But we waited until we found the right concept.

—Chris Capel
Chris Capel was a small-town boy with dreams of making it to the big screen one day. His chance might come at the most televised event in the world: the 2014 Super Bowl.
Capel created a commercial for the annual Doritos advertising contest, which draws thousands of entries from around the world. His ad was recently announced as one of five finalists. The winning ad, chosen by online votes, will be shown during the Super Bowl halftime show on Feb. 2.
Capel modestly said his ad is "just something that a couple of regular guys did." But this regular guy managed to reel in a couple of seasoned actors to star in his production. The result is a look at a stereotypical "office thief."
The boss is played by Larry Cedar, best known for his TV roles in "Community" and "Deadwood." Cedar confronts an employee whose Doritos addiction leads to a life of office crime. The thief is actor Steve Olson, who has appeared on Comedy Central and "Jimmy Kimmel Live."
"I wanted to enter for a long time," said Capel, 33, of Valencia, Calif. "But we waited until we found the right concept."
He and his friend Richard Price brainstormed until the idea took shape. Capel then wrote the script and, after one week of preproduction, spent six hours filming. His budget was $1,500.
As a youngster in Thatcher, Ariz., Capel aspired to be an actor. With 13 siblings, he had a ready-made audience. But his dream of Hollywood faded as he realized he was not cut out for the stage.
"I realized pretty quickly it was a difficult career to have," he says.
Capel soon found himself knocking on doors in Canada as a missionary for The Church of Jesus Christ of Latter-day Saints. Two years later he moved to Phoenix, where he connected with Price, packed up and headed to Los Angeles.
Capel landed a job with DreamWorks, where he was an animator for more than seven years. He honed his filmmaking skills in movies that included "Kung Fu Panda 2" and "Monsters vs. Aliens."
Last year, Dreamworks downsized and Capel found himself with time on his hands. He and Price collaborated on several YouTube videos and decided to tackle the Doritos ad contest. When he learned they were one of five finalists, it came as a shock.
"Stan Lee, the godfather of Marvel Comics, called me," Capel said. "I thought someone was pranking me. It was pretty surreal."
Along with recieving a $1 million prize, the winner will work on the set of Marvel's next Avengers film.
The public will determine which of the five ads will win by voting for their favorites at www.Doritos.com.
Capel and Price also have a website, www.VoteOfficeThief.com, that offers a behind-the-scene look at the video. Voting closes on Jan. 27.
Evelyn Hendrix lives in Arizona where she is never forced to scrape ice from her windshield. She often writes about talented and quirky people who simply make life better.