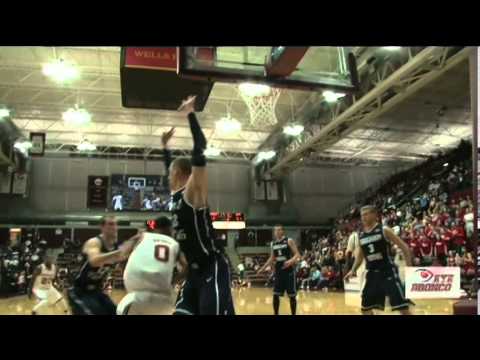 BYU was so dominant in the first half versus Santa Clara on Saturday night that coach Dave Rose was able to rest his best player nearly the entire second half.
That's right, Anson Winder played just one minute of the final 20.
After Tyler Haws picked up two fouls in less than a minute to start the game, all Winder did was come in and put up 16 points in 19 minutes, baffling Santa Clara by knocking down shots all over the court. He also grabbed three rebounds, handed out an assist and played smothering defense.
Ultimately, one half from Winder was all the Cougars needed to run away with a solid 91-81 road win over Santa Clara.
Matt Carlino and Kyle Collinsworth were terrific as well, making absolutely certain the Broncos had no chance at a comeback in the second half.
Overall, the Cougars were as dialed in as they've been all season, shooting an incredible 61.5 percent, diving for loose balls and playing an effective mix of man and zone defense to keep the Broncos guessing.
Dominating at Santa Clara, a team that won at Saint Mary's just nine days ago, validates the improvement BYU has been showing in 2014.
Here are the grades for each BYU position group and other aspects of the game.
BYU GUARDS
Will the real Anson Winder please stand up? Stand up, as in get off the bench and play more. BYU is a better team in several aspects with Winder on the court instead of Haws. There's no question Haws is a better shooter, but Winder is a better defender and passer and at least an equal rebounder.
He deserves more minutes. He has deserved more minutes all season.
Speaking of earning minutes, Carlino was phenomenal off the bench for the Cougars with nine assists and zero turnovers to go along with 15 efficient points. Over his last four games, Carlino is now averaging 15 points, five assists and just one turnover while making 17-of-32 shots, including 10-of-18 3-pointers.
Since Carlino started coming off the bench to begin the new year, BYU has won five straight.
Speaking of hot stretches, Collinsworth just keeps looking better as conference play continues. Saturday night he led the team in points with 18, rebounds with seven and steals with three. He also had four assists.
It is difficult to dispute that Collinsworth has been BYU's MVP in conference play. Through seven games, he is averaging about 16 points, five assists, eight rebounds, three steals and a blocked shot per game. He is also shooting over 60 percent from the field, nearly as well as his 67 percent from the foul line. He could still stand to improve from the stripe and in turnovers, averaging three miscues per game.
As already pointed out, Haws played less than a minute in the first half versus Santa Clara. He played nearly the entire second half, however, and was quite effective. He had 16 points on just eight shot attempts, along with one rebound and a season-high three assists.
Skyler Halford wasn't too shabby either versus the Broncos, making 4-of-5 shots and both of his heaves from long distance.
Grade: A+
BYU BIG MEN
All season, BYU has won or lost with its guard play, and Saturday night was no different.
There is no way Eric Mika should have led the team in shot attempts versus the Broncos. He made a few nice plays, running the floor for layups, but when the ball was thrown to him in the post, it was generally not a pretty picture. He had four turnovers to go along with six boards, two assists and 10 points.
Nate Austin and Josh Sharp were efficient and effective in what they were asked to do. They combined for six points on 3-of-3 shooting and 13 rebounds with no turnovers.
Essentially the Cougar bigs had two jobs that mattered at the Leavey Center in Santa Clara — rebound the basketball and try to play defense. They came through on the glass as BYU outrebounded the Broncos 36-27.
Defense was a slightly different story. Despite the positive outcome and overall tremendous effort for the Cougars, the big men were often slow and lost defensively. Fortunately for them, Santa Clara didn't have the personnel to take advantage very often.
Grade: B-
BYU COACHING
The Cougar coaching was a mixed bag in this game.
The results on the court were generally outstanding. BYU did a nice job of mixing up its defensive looks, and the team played much better than it did against San Francisco, despite only a three-point difference in final margin of victory between the two games.
As has been shown this season, however, the Cougars are a streaky team shooting the basketball. They will not shoot 64 percent from behind the arc and 60 percent overall very often. They will also play a lot of teams that are much stronger than Santa Clara in the post. So, while the Cougars deserve to feel great about their victory, they need to stay humble and teachable and realize there is still a lot of room for improvement.
There's no way of sugar coating it — Winder deserved to play more in the second half. How does a guy step up huge when his team needs him and play a tremendous half of basketball and then sit the bench the entire second half? The coaches had a chance to build Winder's confidence by showing a little faith in him in the second half and they failed in that regard.
Additionally, there have been multiple times this season when the Cougars have had big leads in the second half and Rose refused to use those opportunities to get other guys minutes. Has Frank Bartley IV really fallen so far that he can't even get off the bench when BYU has a 20-point lead? How about Luke Worthington? What if a big guy gets injured again, like Mika did and Worthington is forced to play?
The Cougar coaches have missed opportunities to build players' confidence and it has cost them in some games already.
Grade: C+
SANTA CLARA OVERALL
If the Saint Mary's team was watching Santa Clara get blown off its home court by BYU, it surely must have stung. How did the Gaels lose to those Broncos at home nine days ago?
Santa Clara is now 3-5 in conference play after losing its third straight game. Leading scorers Jared Brownridge and Brandon Clark got hot late to finish with a combined 50 points and make the final score a lot closer than the game actually was.
The Broncos were without senior guard Evan Roquemore who averages 11.6 points, 3.6 rebounds and 3.5 assists. What they needed to beat BYU Saturday night, however, was far better post play to take better advantage of BYU's deficiencies.
Grade: C-
Nate Gagon is a published sports, music, and creative writer. He is also a wholehearted father, grateful husband and ardent student of life. He shoots roughly 94% from the free-throw line and can be reached at: [email protected] or @nategagon.