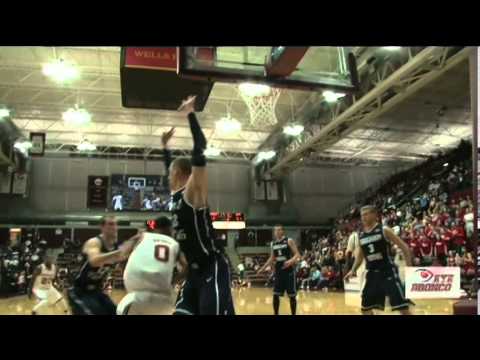 You've just got to talk to your professors more, let them know you're going to be gone for a while.

—BYU guard Matt Carlino
SANTA CLARA, Calif. — With the addition of a 10th member, Pacific, to the West Coast Conference, the league has travel partners this season.
Last year, when there weren't travel partners, teams usually played one home game and one road game per week. This year's Thursday-Saturday conference schedule has teams usually playing two home games or two road games each week.
BYU played at San Francisco and at Santa Clara this weekend, and next week the Cougars travel to Portland and Gonzaga.
Being on the road poses some challenges in terms of keeping up on school work, since players miss a couple of days of classes.
"You've just got to talk to your professors more, let them know you're going to be gone for a while," said guard Matt Carlino.
Meanwhile, being on the road gives players a chance for some team-bonding and to visit some memorable places.
Guard Kyle Collinsworth liked his first trip to War Memorial Gymnasium in San Francisco, the oldest venue in the West Coast Conference.
On Friday, the Cougars held a practice at the Golden State Warriors' facility in Oakland.
Mostly though, winning makes the road experience enjoyable.
"It's just games," Carlino said. "It's just fun."
BRONCOS SHORT-HANDED: Just prior to tipoff, Santa Clara officials announced that two starters would not play against BYU.
Guards John McArthur and Evan Roquemore were suspended Saturday "for failure to uphold academic responsibilities."
While McArthur sat on the bench in street clothes, Roquemore did not attend the game "due to a violation of team rules."
Roquemore averages 11.6 points per game, while McArthur averages 3.9 points per game.
1
comment on this story
1,000-POINT CLUB: In the first half Saturday, Carlino knocked down a jump shot and was fouled. Carlino hit the free throw. That sequence gave him 1,000 career points.
A giant banner of Steve Nash hangs from the top of Santa Clara's Leavey Center.
Nash, a two-time National Basketball Association MVP, played collegiately for the Broncos (1992-96) and led Santa Clara to an upset of No. 15 seed Arizona in the first round of the 1993 NCAA tournament.
Nash ended his collegiate career as Santa Clara's all-time leader in assists (510), and free-throw percentage (.862). He is No. 3 on the all-time scoring list with 1,689 points. Nash's No. 11 jersey was retired in 2006.