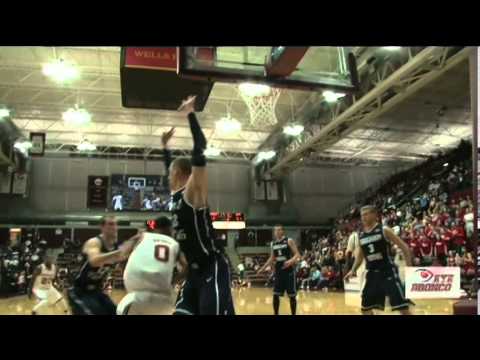 We had to figure out something else (without Tyler Haws). It was pretty easy to find the answer. He played so well, that he got all of the minutes (in place of Haws). That was a great lift for our team.

—BYU coach Dave Rose, on Anson Winder
SANTA CLARA, Calif. — BYU guard Tyler Haws hadn't even broken a sweat Saturday night when he picked up his second personal foul at the Leavey Center.
Haws' two fouls came less than one minute into the game against Santa Clara, and just six seconds apart.
"That was quick," coach Dave Rose remembered thinking at that point.
As Haws made his way to the bench, it appeared it might be a long night for the Cougars.
But guard Anson Winder was the answer to the dilemma.
With the foul-plagued Haws watching, BYU built a 24-point first-half lead, thanks in large part to Winder.
The Cougars ended up beating the Broncos, 91-81, before a crowd of 2,560.
Winder replaced Haws in the lineup in the first half and helped pick up the scoring slack. He scored 10 straight BYU points during one first-half stretch, including a pair of 3-pointers, and had 16 points by halftime in 19 minutes. He played just one minute in the second half, and ended up with 16 points.
"We had to figure out something else (without Haws). It was pretty easy to find the answer," Rose said. "He played so well, that he got all of the minutes (in place of Haws). That was a great lift for our team."
"We all felt like we needed to step up," Winder said. "That's got to be the quickest I've ever seen a player get two fouls, ever. We all knew we needed to step up and make big plays with Tyler out. I think we did that tonight."
Guard Matt Carlino also came off the bench and poured in nine points in the first half, including two 3's. He finished the game with 15 points and nine assists.
Kyle Collinsworth scored a team-high 18 points and grabbed seven rebounds while Haws scored 16 — all in the second half. Skyler Halford and Eric Mika each scored 10 points for the Cougars.
As a team, the Cougars drilled 6-of-8 from 3-point territory over the first 20 minutes of the game and shot nearly 59 percent from the floor. BYU also outrebounded Santa Clara in the first half, 21-13, while the Broncos shot just 32 percent. At halftime, the Cougars led 47-30.
For the game, BYU shot 61 percent from the field and connected on 7-of-11 shots from 3-point range.
The Cougars improved to 13-7 overall and 5-2 in West Coast Conference play. BYU maintained its hold on second place in the WCC standings, behind league-leading Gonzaga, and won its season-high fifth consecutive game.
Santa Clara fell to 10-11 and 3-5.
While BYU played much of the game without Haws, the Broncos played without two of their starters.
Minutes before tipoff, the school announced that guards John McArthur and Evan Roquemore were suspended Saturday "for failure to uphold academic responsibilities."
While McArthur sat on the bench in street clothes, Roquemore did not attend the game "due to a violation of team rules."
Roquemore averages 11.6 points per game, while McArthur averages 3.9 points per game.
"I was really surprised," Rose said when he heard that Roquemore and McArthur weren't going to play.
Meanwhile, Haws started the second half and promptly scored BYU's first points into the period.
"It was a pretty crazy deal," Haws said of his early foul trouble. "I just tried to keep my head into the game. Guys really stepped up. I was proud of those guys."
A 12-0 Santa Clara run in the second half sliced the deficit to 10 points, 58-48, with 11 minutes remaining. With Carlino back on the floor, the Cougars responded with a 9-0 run of their own to push their lead back to 19 — 67-48 — with 8:20 left. That spurt included a 3-pointer by Carlino.
BYU pushed its lead back to 24 at one point in the second half, though the Broncos continued to battle, and whittled the deficit to as little as 10 with less than one minute remaining.
BYU is now 20-5 against Santa Clara all-time, and it has won nine in a row over the Broncos. Santa Clara hasn't beaten the Cougars on its home court in 52 years — way back in 1961.
BYU visits Portland Thursday.